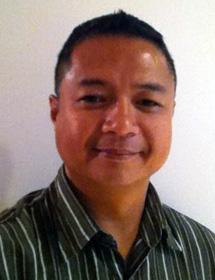 OAC Grad Year(s):
B.Sc. (Agr.) 1992, M.Sc. 1994, PhD 1998
About
When researching post-secondary degrees, Derrick Bautista discovered the applied microbiology major of the Bachelor of Science in Agriculture degree at the University of Guelph. At the time Derrick was originally most interested in learning how to make beer, but soon learned that there is a lot more options in microbiology than being a brew master.
"My experiences at the University of Guelph were enjoyable ones. The interaction with professors, staff and colleagues were not only at a professional level but a personable level as well. Learning was always beyond simple academics. It laid a good foundation for adventures outside of University and into the world." – Derrick Bautista
Derrick chose to major in environmental microbiology because it offered co-operative education opportunities and he saw a demand for the specialization in the job market. Derrick took a co-op placement in OAC's Department of Food Science in food microbiology, which opened up several doors for him.
He became even more intrigued by food microbiology when he realized its significance in human health after the 1992 "Jack in the Box E.coli outbreak". He continued his education by completing a master's degree and PhD in food microbiology at OAC with hopes of influencing positive change in food safety.
After spending 10 years with Nestlé in various international positions within their microbiology team, Derrick transitioned to a role with Del Monte Foods in California. He has been a corporate microbiologist for three years with the company and has worked with both consumer and pet food products. In his role, Derrick evaluates food safety and spoilage concerns and then formulates solutions. He works with both the food products and with the sanitation processes of production, and while helping to develop new products, the company looks to Derrick to manage health and spoilage risks.
When Del Monte Foods divided into two separate companies, consumer foods and pet foods, Derrick transitioned to working exclusively with the pet food side of the divide. Big Heart Pet Brands includes brands such as "Kibbles 'n Bits", "Milk-Bone", "Meow Mix" and "Nature's Recipe".
Posted on September 18, 2014