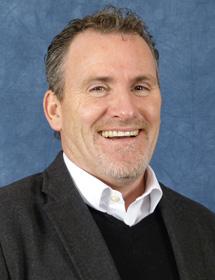 About
Dean Baker began working in the turfgrass industry at the age of 15. He started off his career at the Glen Abbey Golf Club where he eventually hosted 10 PGA Canadian Open championships. He's now been working in the industry for 25 years as a golf course superintendent.
"I love my job. There isn't a day that goes by where I don't hesitate waking up and going to work. It's a job I've enjoyed since I was 15 years old." – Dean Baker
Dean decided to enroll in the U of G's turf manager short course in the spring of 1983. That fall he decided to continue his education by enrolling in the Associate Diploma in Turfgrass Management. For Dean, the most influential part of his time while studying was learning how to access the resources and information available on turf management. Knowing where to obtain information was his biggest take-away.
Since graduation, Dean has decided to give back to the diploma program in a unique way. He's been a course instructor for the last seven years, teaching on the topic of human resources and communications. He feels passionately about the importance of people and communication skills in up-and-coming turf managers. In his role, he explains to students, growing grass takes 20 percent of his time while working with people takes 80 percent.
At the Burlington Golf and Country Club, where he currently works, Dean manages a crew of 28 employees and the expectations of 700 golfing members. Keeping the "golf course in top shape and making sure good work happens" is his priority, and this is where his strong communication skills come in. One important way he communicates with golfing members is through Twitter and a blog on the club's website. Dean knows golfers don't want to have surprises when arriving on the course, and both forms of communication are a simple way for him to let members know what is going on at the course on a day-to-day basis.
Posted on September 18, 2014