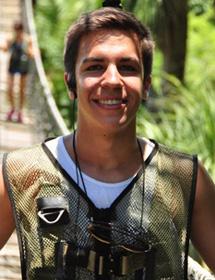 About
Daniel Johnson realized his knack for design at a young age. Gardening and LEGO® blocks were a regular part of his childhood days. In 2012, after working at a tree nursery, Daniel enrolled in OAC's highly recognized Bachelor of Landscape Architecture program and has never looked back.
"The landscape architecture program at U of G is the only one of its kind in North America. This is one of the main reasons I was so excited to come to OAC. I have always been interested in the use and design of outdoor spaces and there was no better way to grow my passion." – Daniel Johnson
Like many children, Daniel fell in love with Walt Disney World during family vacations, but unlike many children this love drove him to pursue employment at the world-renowned resort. Daniel has spent his last two summer vacations working as park greeter for Magic Kingdom, a parade audience control cast member, and assisting with attractions like "Peter Pans Flight" and "it's a small world"®. Daniel's true aspirations are to one day work with the Walt Disney Landscape Architecture team. Daniel admires their extreme attention to detail and use of unique methods to tell stories through their environments. Daniel enjoyed specially designed spaces at Disney as a child and wants to apply his talents and interest in design to the continuation of sharing "Disney magic" at the Park and Resort.
Daniel got a real taste of what it is like to work as a landscape architect in his second year introductory landscape architecture class. In this course he had the opportunity to develop his design skills and understand positive client interactions. Daniel enjoyed the thoroughness of the course, learning to create environments with esthetics, sustainability and functionality in mind.
In the upcoming 2015 winter semester Daniel will be travelling to Perth, Australia to complete a semester abroad at Curtin University. He is looking forward to learning in a new environment and bringing his international experiences back to his future career pursuits.
Posted on September 18, 2014