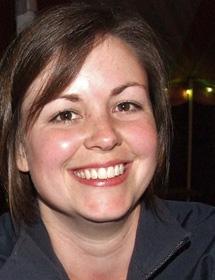 About
Charlotte Hogan did not always know she wanted to be a veterinary technician. She completed her Correctional Worker Diploma in 2000, but found her true passion through volunteer work at local animal shelters. Charlotte decided to pursue a different career path and began by enrolling in the Associate Diploma in Veterinary Technology at the University of Guelph's Ridgetown Campus.
"I want to learn to work in the animal world, not force animals to work in my world." – Charlotte Hogan
Charlotte made a difficult decision when she changed career path but has never been happier. She is passionate about creating a world with a greater appreciation for animals and has been able to improve her ability to care for them through her courses. In her Medical Exercise course she works directly with animals in Ridgetown's teaching facility. The course prepares veterinary technicians in the procedures of animal hospital practice and tasks that they will perform day to day in the industry. Hands-on-learning is what Charlotte enjoys the most, making the veterinary technician program at Ridgetown a great fit.
Charlotte's favourite event at Ridgetown Campus is the Spring Expo. The Spring Expo showcases what Ridgetown Campus has to offer by showcasing a variety of demonstrations and shows for the Ridgetown community. This past year, Charlotte participated in a poster initiative to promote shelter animal adoption in the community. The cause is close to her heart due to her extensive experience working in animal shelters.
After graduation Charlotte hopes to work in a veterinary hospital while still maintaining a role in rehoming animals and someday being involved with animal rehabilitation. She plans to continue her education and learn both animal massage and physical therapy techniques to help improve animal recovery after surgery and overall health and wellness.
Posted on September 18, 2014