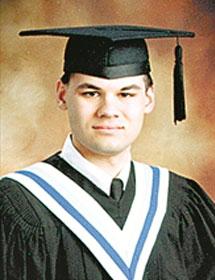 About
Brandon Singh's high school guidance counsellor introduced him to the Associate Diploma in Horticulture at Ridgetown Campus. Unsure of what career path he wanted to pursue he investigated a variety of programs and eventually decided to enroll in the program in 2013.
"The greenhouse course is very interesting and I look forward to the production courses in winter." – Brandon Singh
Brandon's fascination with plants blossomed in tenth grade. At 15 years old, he began collecting exotic and tropical plants and currently has a personal collection of 15 orchids and two carnivorous plants.
Brandon particularly enjoys lectures about plant science and identification in the diploma. He appreciates the passion and charisma of his professors when discussing these subjects as he holds the same passion for learning. Brandon also enjoys learning about plant propagation in his greenhouse courses
He has a special interest in learning more about strawberry plants and bushes and the use of greenhouses to grow them. Strawberries are the perfect size for greenhouse production, but present a challenge due to their temperature sensitivity. Brandon is looking forward to the fall semester of his second year, as he will learn more about strawberries in a food production course as part of his diploma.
Brandon is also very interested in research trials. He likes to read a variety of research papers in his spare time and is especially interested in reading about trials happening on the Ridgetown Campus. Brandon's short-term goal is to use the techniques he has learned in his program to be a greenhouse manager. He then hopes to attend the University of Guelph's main campus to complete a degree program in the Department of Plant Agriculture and eventually to pursue a graduate degree.
Posted on September 18, 2014