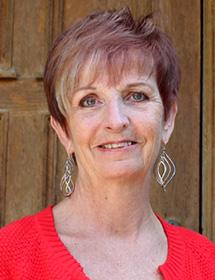 About
In 1990, Betty Clyde was encouraged by her father, who was happily working at the Elora Research Station, to retire from her banking career and seek employment at the University of Guelph. She followed his advice and took a position with Alumni Affairs where she held various roles over 12 years. In 2003, she moved to the OAC Office of the Dean as the executive assistant to the dean.
"Every day is different – some days it's like air traffic control. I think the key is being very flexible, you can make a plan of tasks to complete and within 5 minutes it can be out the window when priorities change. I love the variety and the wide range of people I work with, I really do enjoy it." –Betty Clyde
Betty's current realm of responsibilities support all of the staff in the OAC Dean's Office. Arranging office functions, making travel arrangements, booking the boardroom and managing the dean's calendar and his many conflicting meeting requests are just a few of her responsibilities. She's also in charge of the important task of ensuring the whole office team has their shot of caffeine in the morning, which she completes like all of her tasks: with positivity and a smile.
Betty has nurtured a strong network with fellow administrators between different departments and offices both within and outside of the university. Her flexibility and ability to balance several tasks has supported her through assisting three deans: Craig Pearson, interim dean Mary Buhr and the current dean, Robert Gordon.
Betty participates in all sorts of events and committees within the University, such as the recent Conversat Ball Planning Committee, the United Way Committee as department representative, secretary for Ontario Secondary School Teachers' Federation, and the mastermind behind the annual OAC Welcome Back BBQ.
Betty's involvement on campus and within the OAC community will be greatly missed upon her retirement this winter. Betty looks forward to using her new free time pursuing her interest in photography, spending time with her grandchildren, dancing and watching sports.
Posted on September 18, 2014