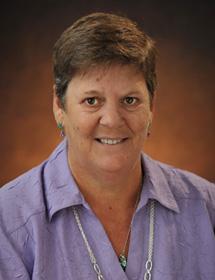 About
Beth Livingstone started her career with OAC as a secretary in the Department of Crop Science in April 1984, where she worked until September 2012, when she passed away unexpectedly. She had a wry sense of humour and she enjoyed the music of Elvis Presley. She was a good friend to many.
"… Beth was a very quiet unassuming professional. She was extremely thorough in all of her duties throughout her University career and maintained very high standards.  She was a loyal and dedicated member of this Department and her passing was a great loss to all her friends and colleagues …" – Jen Kingswell, Department of Plant Agriculture
In October 2003, Livingstone became secretary to the chair and liaison officer in the Department of Plant Agriculture, created in 1993 from the Departments of Crop Science and Horticulture Science and the Horticultural Research Institute of Ontario. For almost thirty years, she greeted visitors to the main office with warm professionalism. During the period leading up to the amalgamation, she worked with University of Guelph and OAC administration to make the transition smooth. As secretary to a succession of different department chairs, she was a constant and reliable face.
Livingstone was noted for always doing an excellent job. Her organizational skills were legendary, and she could be counted on to avert a crisis or meet a deadline by locating information at a moment's notice. She could also produce coffee and cookies at the precise moment when they were most needed to settle a committee of fractious faculty members. Her attention to details such as these was a priceless asset. 
The personal impact she made on her colleagues is her greatest legacy. She sincerely cared about people.
References and Further Reading
Posted on September 18, 2014