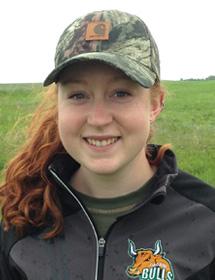 About
Alicia Newman gained an interest in agriculture during high school and took the initiative to educate herself on the topic. This self-education eventually brought her to the University of Guelph in 2012 after completing a year and half at the University of Waterloo. Alicia is now a proud OAC undergraduate student that is dedicated to the support of agriculture in her everyday life.
"There's no industry I'd rather be in than agriculture, but that's not to say it's without its flaws. The OAC has prepared me for a future within the industry, and provided me with the tools to work towards necessary changes." – Alicia Newman
Alicia's relationship with OAC began at age 16 while working at the Ridgetown Campus research station as a summer student. Alicia tended to research crops through planning, planting and harvesting activities. While tending to various crop plots, Alicia's knowledge of agriculture grew and her interest blossomed.
Alicia decided to pursue her undergraduate degree in the Bachelor of Science in Honours Agriculture program to further enhance her understanding of agricultural production. In return she wants to combat the misconceptions her friends and family have about agriculture. During one of her agricultural communications courses, Alicia learned to share her new found knowledge through a blog and personal twitter account where she continues to shares articles and information about women in agriculture, agricultural education and sustainability.
After graduation, Alicia has plans to pursue a career as an agronomist. She would like to work with growers in developing and promoting management plans for farms, with a special focus in precision farming. She also has aspirations to one-day work in collaboration with the elementary school system to support the creation of a curriculum that educates children about agriculture.
Posted on September 18, 2014