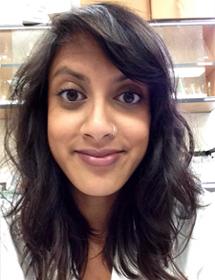 About
Abir Sarker fell in love with the University of Guelph campus while touring universities in high school. In 2012, she completed a Bachelor of Applied Science in Applied Human Nutrition, but a co-op position convinced her she was meant to work in food science. She began her Master's of Science in Food Science in 2012.
"I see the potential and demand for careers in the food industry, and a degree in food science gives me a better foundation of knowledge to be able to make my way into the industry." – Abir Sarker
Abir's experience working at PepsiCo Foods as a summer student unquestionably influenced her decision to focus her graduate studies in food science. Abir started as a sales representative for Frito Lay delivering merchandise and selling products to different stores. She was then hired as the resource manager at the Frito-Lay plant in Cambridge in a co-op position. In this role she led a team and helped them reach their target goals, while uncovering any barriers.
Abir enjoys the research focus of her program. Her favourite course has been Functional Foods and Nutraceuticals, and she appreciated learning about the regulations of functional foods in Canada.
Abir is determined to choose a career path that she is passionate about and that also benefits society. Her master's research is on naturally processing millet, a type of gluten free seed, to observe the chemical and sensory changes in the final product. Millet is beneficial to human health due to its low glycemic load and its high source of protein, fat and fibre. It also has a short growing season and is drought resistant. Her goal is to improve the utilization of this grain in North America by providing people with food that contains the benefits of millet without sacrificing palatability.
Posted on September 18, 2014