The Department of Animal Biosciences is pleased to welcome Dr. Wendy Pearson as an assistant professor in equine physiology. Pearson joined the department on July 11, 2016.
"We are very pleased to have Wendy's extensive equine research and industry knowledge supporting the delivery of our growing Bachelor of Bio-Resource Management - Equine Management program," shares Jonathan Schmidt, OAC associate dean - academic.
In this position, Pearson will significantly contribute to the teaching of the equine management program, as well as the advising and supervision of highly qualified graduate students and post-graduate scientists.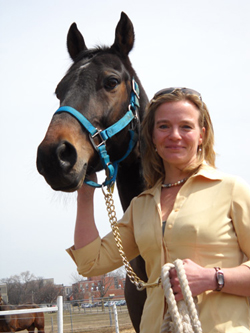 Pearson's research focuses on developing an improved understanding of musculoskeletal inflammatory disorders in horses, and the roles of nutritional and nutraceutical interventions in motivating improved clinical and physiological outcomes.
"The Department of Animal Biosciences is engaged in an exciting time of transition and growth, and I am privileged to be part of it," says Pearson.
Pearson attained her bachelor's, master's, and doctoral degrees all at the University of Guelph. She has been an adjunct professor in the department since June 2015 and was previously a sessional lecturer. In her career she has published 21 research papers and four book chapters.