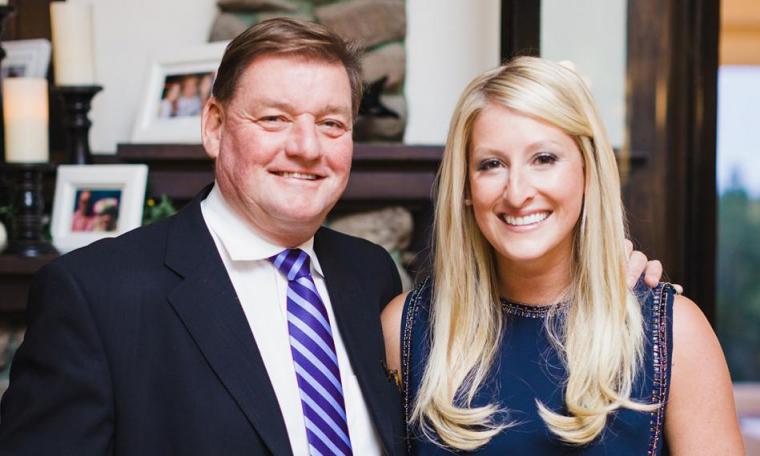 After 10 years of working in the family business, Cassandra Loomans, B.Comm. '07, is preparing to take the lead.
Many OAC alumni families are working through the difficult process of passing down farmland, ownership of a business or leadership of a company. Succession planning may be awkward at times, but when the two generations (or sometimes three) do it right, the process benefits everyone.
In 1983, Hugh Loomans, B.S.A. '76, purchased Sylvite, a fertilizer distribution business focused primarily on agricultural products, from Alex Henry and Don Rutherford OAC '51. Today the company has four divisions: agri services for direct to farmer sales; wholesale agricultural supply; transportation and logistic services across North America; and an industrial chemical division. Now Cassandra is shadowing her father in his role as Sylvite President and CEO.
Their transition plan is informal and Cassandra admits it can be an uncomfortable topic at times, but father and daughter are on the same page.
"Succession has always been a difficult topic," Cassandra shares. "My dad still really enjoys running the business, and I want him to continue to enjoy what he's doing, but I think there's a place for us both."
The Path to Today
Taking over the helm of the company wasn't originally on Cassandra's radar. But as her graduation from the University of Guelph got closer, she decided to take a full time position in the fertilizer division to get her career started.
She went on to work on the fuel side of the business, became the company's biodiesel specialist, and then started to work on a newly created national insurance program. With each new position and responsibility, she drew on an important skill learned in university.
"My university experience was an important time in my life because it was when I learned to problem solve," reflects Cassandra. "I actually found every class a struggle to get through. I'm not a natural academic, specifically in any class that involved mathematics, and had to work really hard to fight for the degree I wanted."
To attain her degree, she joined study groups, worked on building relationships with professors and developed strategies to manage the difficult situation as best she could.
She later used the same perseverance and problem solving to get her footing in the insurance industry. She obtained her insurance brokerage license and status, and spent time in London, England to learn the ins and outs of insurance.
In 2015 there was an opportunity for Sylvite to sell the insurance program, and it was time for Cassandra to problem solve again. "I had to reinvent myself, and I decided I wanted to work toward taking over the company," she says.
Transitioning Responsibilities
The 31-year-old is now navigating the complicated succession process with her father. "My dad and I have never wanted it to be just assumed that I will take over from him. To me that's really important," she explains.
"I've been fortunate to work from the bottom up and I've worked hard. It's important that people see me providing value to the company and not assuming things will be handed over. It needs to be earned."
She's also quick to point out that she has a lot to learn and has good people around her to maintain success. She also emphasizes the concept of finding the right place for everyone in the company while strategizing about bringing up the younger generation of employees who are keen and interested in the company.
Right now Cassandra's own succession plan is focused on shadowing her dad day-to-day, which is an arrangement both of them are adjusting to.
"We spend a lot of time together and soon we'll be sharing an office. This way I can hear all of the conversations he's having and learn from him as the team comes in with questions."
She explains that it's the little details she's most interested in learning. As in many transition processes, sometimes the person passing on the information doesn't think to pass along what they consider to be "trivial" information, but Cassandra knows these details are crucial to learning the role.
"We work with 300 people and there's a lot of responsibility in every decision you make. It will not just be my decision, but a decision we are making on behalf of everyone," she shares.
This concentrated time together will also enable a merging of vision. "I need to understand his vision for the company along with my own vision, so we can then merge them together."
One of the more complicated tasks she's been learning from her father is how to buy wholesale fertilizer in an ever-changing international context.
"You need to have your finger on the pulse of fertilizer market and political situations across the world," she shares. "The coup in Turkey, China's reliance on coal, the tensions in Russia, our Canadian dollar, the price of gas in Saudi Arabia and Iran, these all affect the market and prices. If you make a bad trade then the whole business can be greatly impacted. Our customers depend on us to make strategic decisions."
There's a lot to learn, but she's especially excited to sink her teeth into the buying side of the business.
"I know my dad really enjoys the buying side of his role, but I think there is enough work for both of us to be involved. Over the next year I want to work at being comfortable making all of the buying decisions together," she shares. In the next five years she hopes she'll be making the decisions on her own and then running them past him.
Just like many other families going through a business transition between parent and child, there is some awkwardness in the process, but also a lot of excitement.
"I know I have unique skills to offer the company and am very much looking forward to the challenge ahead and expanding my knowledge – and it will be a challenge," says Cassandra.
"We have great leaders as our division heads and I see us all being successful together as we continue to grow the business in a time of changing markets and as we execute the succession plan in the years to come."
And when that day comes, she thankfully has an expert in the family to run ideas by. "Around the dinner table there's always been lots of business discussion, and that will never change. Somehow it always comes up," she laughs.
Are you looking to take over your family business? Cassandra Loomans shares a few tips.
You can't be afraid to start the conversation. It's difficult but needs to be started sooner than later.
Show initiative and come up with a plan. Your family member (owner) will be looking for you to come to them with a plan. Think about what you want, come up with strategies and present them.
Think about your skillset and what you bring to the business. This will help you decide who else you need around the management table with you.
Be realistic about what you need to learn and how fast you need to grow. Don't expect it to happen overnight, but prepare yourself for the tasks ahead.
Develop short term and long term goals and strategies. It's important to keep yourself on track while also not jumping in too quickly.