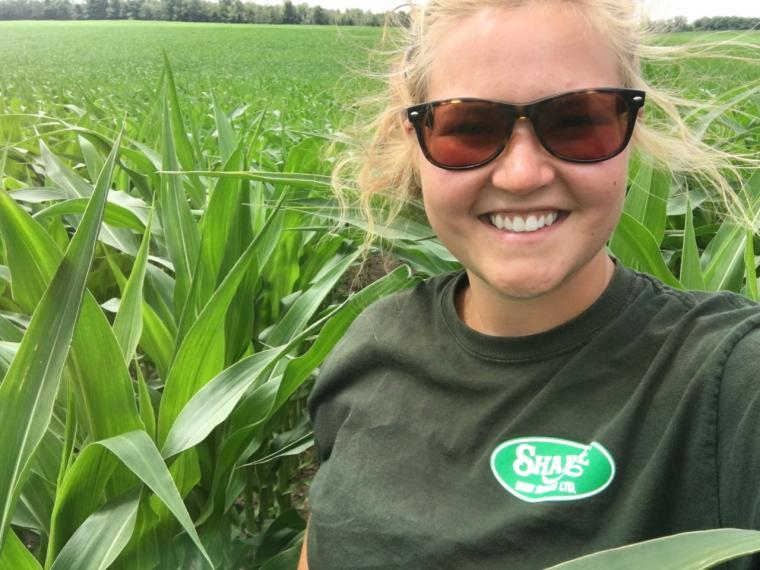 *** Over the next few weeks, we will be sharing a series of Q&As featuring OAC community members to showcase how people are coping with our uncertain - but collective - state. We're hoping these will help connect and support our community (in a small way) during these isolating and challenging times. Look after yourself and those around you. ***
Alyssa Gingras is a two-time OAC alumna (BSc. ENVB 2017, MES 2018) and a sales agronomist with Sharpe Farm Supplies. Although her day-to-day work is not significantly affected by the changes brought by COVID-19, she still adjusting to a new routine. We recently connected with her to find out how she's doing.
---
How are you spending your days?
Going to work as usual. As a sales agronomist it has been busier with the arrival of spring, field work has started up again- there's seed, crop protection and fertilizer orders, and stores have been extra busy due to the panic. Outside of work I have been staying home and isolating for myself, as well as my coworkers, customers, and the community. I do puzzles, watch Netflix and take care of my indoor plants, but I was doing that before the pandemic. Spending way too much time on my phone is another thing. I want to do some reading and painting, which I haven't done in a while.
How is the COVID-19 situation affecting your work as a sales agronomist?
The pandemic really hasn't had an impact on my work as a sales agronomist, other than not meeting with clients face-to-face, but we have phones and email that can get the same work done. It has impacted the Canadian dollar, which affects our commodity prices, so that has impacted farmers more. Fertilizer has been more uncertain than normal. The USA has been hit harder by the pandemic, so our dollar might gain strength which would help fertilizer prices, but on the other hand, they could be going up due to demand.
Field work like soil sampling and scouting is starting, so I will be in isolation but that's normal! In addition to agronomy, Sharpe Farm Supplies has retail locations where we sell animal feed, so we have now implemented a locked door policy where we take orders and payments over the phone and leave the products on the loading docks. Because people are worried about feeding their animals, our stores have been particularly busy, so I was helping at our Fergus store last week.
Overall, I would say all is well for me. I am grateful for the job security working in this industry, and the fact that it is removed from the larger population.
How are you finding social distancing?
I'm still getting a lot of socializing at work, more in fact than usual so that has been a bit tiring. I've tried to keep my distance at work, but not everyone is. Before we closed our stores, we had customers ignoring our signs and hand sanitizer stations, leaning over the counter, lots of cash being used so that was giving me anxiety. I live alone, and I'm glad I do so I can just relax and isolate by myself. I do miss my friends, family, and the gay bar in Guelph that I frequent often (The eBar). The people there have become an important community to me, but I do need a lot of time to myself, so I am also enjoying the break from social engagements. 
What are some ways you are staying in touch with friends and family?
I've been talking to my mom on the phone daily, she's having more trouble with this, so it helps her a lot. I've been checking in on several friends regularly to see how they're doing, particularly mental health related. Generally, just more texting and interacting with people on social media.
What's brought you the most joy over the last few days?
Where would we be without memes LOL. Memes definitely help us get through the hard times by putting a spin on the darkness. Just like everyone else, Joe Exotic, Tiger King has been a great part of the week. Can't wait for season two! There's also a dog at work that makes everything better.
Do you have any advice for your fellow alumni during these uncertain times?
Honestly, this sucks, it really does, and it sucks for everyone. YOU ARE NOT IN THIS ALONE. We are all together and we will get through this. The uncertainty is brutal but it won't be forever. Please just listen and stay home, the sooner people stop ignoring COVID protocol, the sooner it will be over.