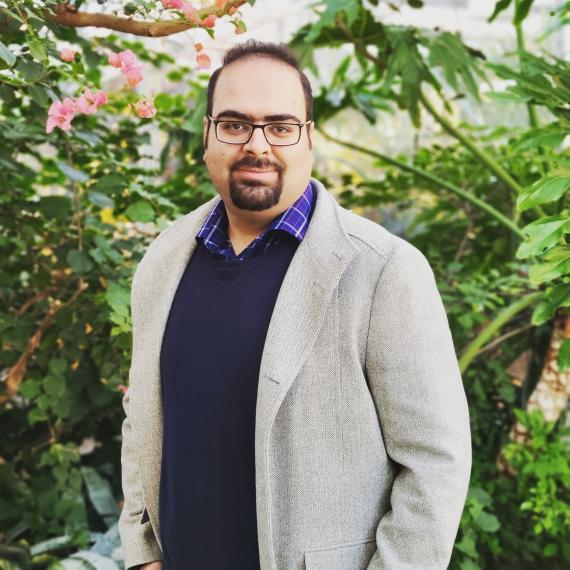 Dr. Mohsen Yoosefzadeh Najafabadi is the 2021 recipient of the University of Guelph's (U of G) top graduate convocation award: the D.F. Forster Medal (Doctoral). 
Named for the late Donald Forster, a former U of G president, the medal is awarded in recognition of both academic achievement, motivation, leadership, and citizenship.
Mohsen recently completed his PhD in the Department of Plant Agriculture under the supervision of Dr. Milad Eskandari, an associate professor in soybean breeding and genetics. He excelled academically and significantly contributed to research and improving life at U of G. 
"Mohsen is an outstanding graduate student and young researcher who has excellent academic records as an undergraduate and a graduate student," says Eskandari. "I have found him to be an intelligent and self-motivated student who excels at motivating and guiding other members of his team."
Mohsen's doctoral research focused on phenomics, big data, and genomics for a deep understanding of yield formation in soybean. He developed three reliable artificial intelligence (AI) algorithms to predict the soybean yield in the early growing stage by using phenomics procedures.
In 2020, Mohsen completed 19 elective courses online, to advance his skills in artificial intelligence and machine learning.
His inquisitiveness for seeking knowledge and dedication to academics is evident in his research, as well as his work as a graduate teaching assistant.
"Mohsen has a very strong commitment to supporting and encouraging students further evidenced by the breadth of his extracurricular involvement throughout his PhD," says Dr. Istvan Rajcan, professor and graduate program coordinator in the Department of Plant Agriculture. "His work was characterized by excellent organization, punctuality, great teaching skills, care and understanding for his students." 
During his time at U of G, his volunteer efforts and extracurricular activities were exceptional. He held elected roles with the Graduate Students' Association as vice president internal, U of G Graduate Student Committee as constitution and by-laws chair, and the Plant Science Symposium (CPSS) chair. 
As an international graduate student, Mohsen identified the need for diverse voices on the Graduate Students' Association (GSA) board. This representation was essential to further the goals of graduate students. Mohsen advocated for opening two seats for black graduate students on the GSA board – a first in the GSA's history.
"It is important to amplify voices to ensure no one is feeling othered, no one is feeling alone. [Through these actions, I hope to see others] motivated to continue to strive towards diverse representation," shares Mohsen.
To add to his extensive volunteer work Mohsen was a U of G Judicial Committee member, Academic Policies and Procedures Committee member, Student Leads and Administration Meetings (SLAM) member, University Centre Board Committee member, Admissions and Progress Board of Graduate Studies member, an International Student Representative for the Graduate Student Council and an executive member of the Department of Plant Agriculture Seminar Series committee. These are among many other volunteer roles that he held, both on-campus and off-campus.
"Dr. Yoosefzadeh Najafabadi is a highly motivated, compelling, and charismatic individual, who truly appreciates the unique responsibilities and opportunities he has been afforded and dedicates himself to support and elevating others," says Dr. Rebecca Hallett, associate dean of research and graduate studies. "Balancing these immense duties alongside a strong academic record is a tremendous and admirable feat." 
"Mohsen truly exemplifies all that the D.F. Forster Medal seeks to award," adds Hallett. "He has demonstrated excellence of the highest caliber in his academic and research activities, and through his extensive service activities Mohsen has demonstrated impressive qualities of leadership and citizenship, as he strives to advance the academic and social goals of graduate students, and advocates for increased diversity and recognition of the unique needs and experiences of others."