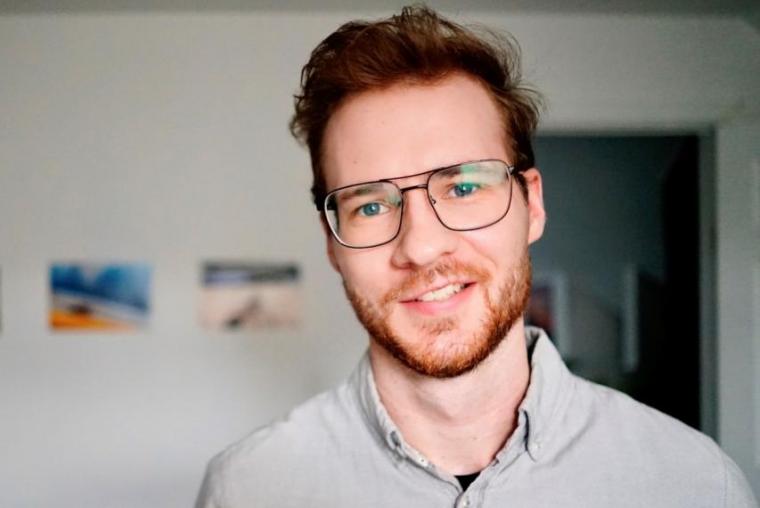 Tyler Black, a PhD candidate in the School of Environmental Science, is studying the impacts of marine diesel oil spills on marine bivalves. 
He was recently awarded a prestigious Vanier Canada Graduate Scholarship through the Natural Sciences and Engineering Research Council for his PhD research.
"It was in the back of my mind to apply, being one of the most prestigious scholarships in the country, says Tyler. "A large focus of the scholarship is on leadership, research output, and research potential. My advisors support really pushed me towards applying, I had nothing to lose and was feeling confident that I had a chance."
His current research stems from a diesel spill that occurred along British Columbia's central coast near Haíɫzaqv (Heiltsuk First Nation) territory.
In 2016, the Nathan E. Stewart tugboat ran aground and sank, causing the release of 110,000 litres of diesel fuel and other petroleum products in the Seaforth Channel and surrounding waterways.
Tyler is investigating the contaminated clam beds, whose populations have not shown signs of recovery over the past five years and are not being harvested as a result.
"We are trying to investigate the impacts of this intertidal diesel spill to marine bivalves, in this case, three species of clams." 
In 2016, Tyler completed his BSc in toxicology at the University of Guelph.
"My first introduction to aquatic toxicology and issues around contaminants in the environment was during my undergraduate degree," says Tyler. "I worked with Dr. Paul Sibley on projects relating to mixture toxicity and how contaminates impact invertebrates."
After his undergraduate degree, Tyler pursued a master's program at the University of Manitoba, to study the effects of oil spills, with a focus on diluted bitumen (dilbit), a common petroleum product that is transported through pipelines across Canada.
Tyler is passionate about his research and was able to find the opportunity for his current PhD project with Dr. Ryan Prosser, assistant professor in the School of Environmental Sciences. The research is in collaboration with the Heiltsuk Integrated Resource Management Department (HIRMD). Tyler's co-advisor is Dr. Kyle Artelle, science director at the HIRMD Marine Food Systems Restoration Program. 
"The project was right up my alley and a natural progression in understanding how oil spills impact the environment."
He is interested in being a part of the transition away from fossil fuels and to help inform some of the management and policy decisions related to energy in this country.
"Oil spills impacting the environment is a pretty hot topic right now, especially around fossil fuel divestment and changes in our energy infrastructure moving forward as we deal with the climate crisis,"  says Tyler.