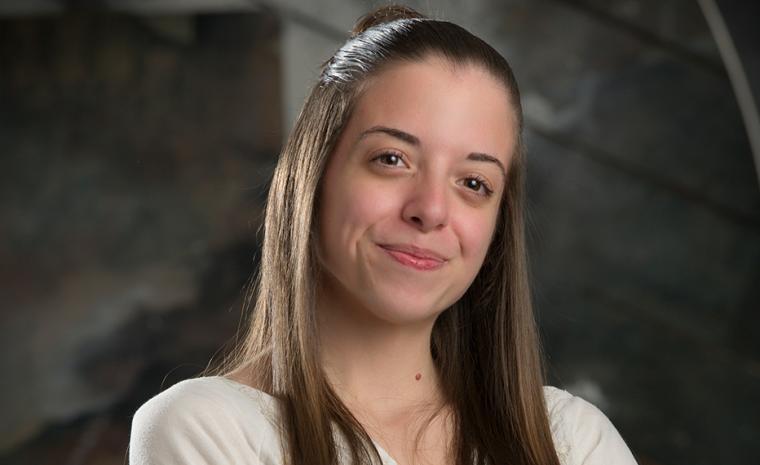 Presenting findings in a consumable way is an important aspect of any research. Renée Garant, a graduate student in the Department of Animal Biosciences [1], prides herself on her research extension efforts.
Renée recently won the 5-minute oral presentation award at the first annual Canadian Poultry Research Forum [2] and placed 2nd out of 48 research talks at the 2021 Ontario Ecology, Ethology, and Evolution Colloquium (OE3C) [3].
Renée is researching the activities laying hens to improve multi-tiered housing in alternative systems. Her research is a part of the locomotion project in the lab of Dr. Alexandra Harlander [4], who holds the Burnbrae Farms Professorship in Poultry Welfare.
"At the core of the locomotion project, we are trying to see the activity of laying hens and what it means in different facets," says Renée. "On one hand, we are looking at fundamentals about the energetic costs of behaviour in laying hens, on the other hand, we are looking at how activity of muscle groups affects other conditions such as keel bone damage, which is a common problem for laying hens, and how important their feather cover is."
Renée's project looks at flight feathers in laying hens and how it impacts their ability to access elevated resources such as food, nest boxes, and perches, in these new aviary, multi-tiered style housing systems. 
"For laying hens, many farmers have switched over to a multi-tiered style housing system where hens have to be able to fly to between different tiers to access food, nest boxes, and perches," says Renée. "The challenge is that for most species of birds that fly, they need the flight feathers to do so. Laying hens exhibit a behaviour where they will peck each other's feathers, which may impact their ability to fly."
The locomotion project will continue further research on laying hens to explore various behaviours and traits, and support evidence-based practices to support the industry.
Renée is currently finalizing her research and preparing for her master's defense, while looking ahead and exploring next steps.
"First, I'll be taking a few months off after finishing my graduate degree. In the future, I hope to work as an Animal Welfare Specialist or possibly with the SPCA. I haven't fully decided yet!"
OE3C is a student-run, student-focused conference celebrating the very best ecological, ethological, and evolutionary research being done in Ontario and surrounding areas. You can watch Renée's presentation here [5].
---
Graduate Studies Tips
In hopes of helping others, Renée provides a few a few tips for anyone looking to pursue graduate studies at U of G:
Explore the University of Guelph campus and City of Guelph.
Utilize the resources and experiences that U of G provides.
The amount of experiential learning you will gain is invaluable.
Be flexible and try your best.
Remain adaptable and keep an open mind to learning.