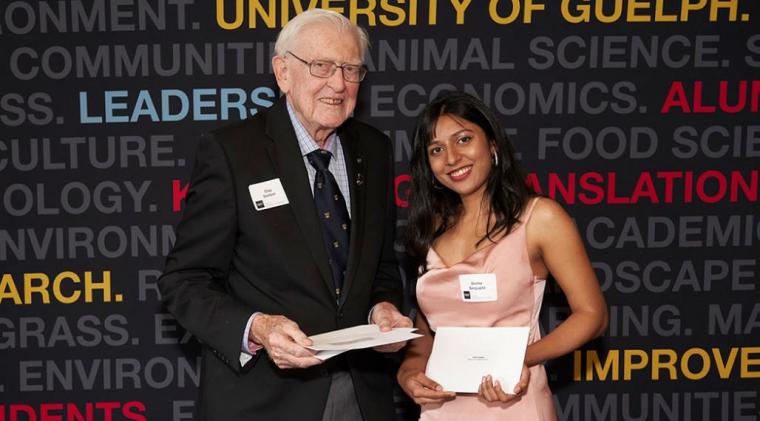 Sneha recently graduated with her B.Sc. (Agr.) as part of the OAC Class of 2022. She came to Guelph in 2018 as an international student from Mauritius, and despite studying abroad at a particularly challenging time, she excelled. Sneha attributes part of her success to the OAC scholarships she received and the encouragement they inspired in her, including the Rosemont Scholarship in Food Sustainability and Class of '51 O.A.C. Leadership Prize she received at convocation.
Here's more about Sneha and her studies at OAC:
---
Why did you decide to study at the University of Guelph?
I knew I wanted to study agriculture and the University of Guelph is world-known for its agriculture degree. Soon after sending my application, I signed up for a virtual tour of the campus and I saw a place I could call home. I'm happy to say that this feeling proved to be true, four years later. An important influence was Ernest Damalie, who is an International Recruitment & Admissions Officer at the University. He explained what I could expect coming here. He explained how having electives, experiential learning and work-study options could enable flexibility in my degree, and how program counselors help each student from the beginning. That made me feel supported but, also, mentally prepared.
What influenced you to study agriculture in Canada?
There is no straightforward answer to this. It's a combination of many factors. I have no farming background, but I've always enjoyed growing my food in my backyard. Growing up in Mauritius, I recognized that my generation viewed farming as "unposh", and we were also importing most of our food. I was incredibly confused because we were blessed with beautiful climate all year long, which led to me thinking that this current mentality will lead to our downfall. These factors piqued my interest in agriculture. Picking Canada was easy. I wanted a safe environment to learn and explore my career options while obtaining the highest quality of education. I knew I could take my time to grow here.
What course inspired you most?
The first course that comes to mind is AGR 4600 – Agriculture and Food Issues Problem Solving, taught by Drs. Rene Van Acker and Vern Osborne. It taught me how to approach problems and how to think logically. It prepared me to face the professional environment and work effectively in a group. My only regret is that I took the course during my last semester, and I wish that I took it at least a year earlier. I was so engaged in my final group assignment, which involved changing current policies to accommodate more sustainable practices in farming. I stayed on campus till 12:23 am on the last day of my degree to finish the assignment. I'm very proud that I received a convocation scholarship for this course.
How did scholarships support your studies?
I received my first scholarship during the first official online semester (September 2020) and at the time, I was worn down by feelings of anxiety about finances and various other uncertainties. I honestly cannot explain the morale boost I received upon seeing that email pop-up on my screen. This motivated me to focus and maintain my hard work and the University kept rewarding me. I used the funds towards my tuition fee and living expenses and relieved my parents from some of the financial stress. I made my family proud. Having a list of scholarships received also makes your resume perhaps a bit more appealing.
What are you most proud of from your undergraduate studies?
I'm most proud of the relationships I have formed at this University. I've met people from different backgrounds who have shaped my experience here. I expected a culture clash in a foreign country and oh was I wrong. I was embraced by the "Aggie" culture. We had our jackets, weekly events, and a strong sense of belonging at the University of Guelph. I have formed lifelong friendships and know professors who are quick to recognize one's potential. These relationships are long-lasting and precious. They are as important as the education I received.
What advice would you give to incoming international students?
Plan before coming to university. This place offers a rich environment to grow, and four years go by so fast. It's important to plan your education, visualize your potential career, and have backups if your interest grows in another field. Another crucial step would be to trust your program counselor fully and the earlier you can meet them to plan your degree, the more time it will save you eventually.
What's next for you?
For the summer I am working as an undergraduate research assistant in Dr. Manish Raizada's lab on campus. The role has given me the opportunity to catch up on lab work that I missed out on due to the unfortunate circumstances following COVID-19. I've also been able to extensively participate in greenhouse and fieldwork. This has truly been a fun experience where I get to learn with other students, and of course, Dr. Raizada himself. I've now applied for my post-graduate work permit and while waiting for approval, I'm applying for new jobs. I'm hoping to work as an agricultural relationship manager, because I've always been interested in finances, and most importantly, helping people