Territorial Acknowledgement 
With great respect, Student Experience acknowledges that the University of Guelph resides on the ancestral lands of the Attawandaron people and the treaty lands and territory of the Mississaugas of the Credit.  We uphold the significance of the Dish with One Spoon Covenant and the continuing relationship our Indigenous neighbours have with this land. We recognize that today this gathering place is home to many First Nations, Métis and Inuit peoples and acknowledging them reminds us of our relationships to this land where we learn and work.
Vision
Preparing students for lives of purpose.
Mission
To support students in developing the knowledge, skills and attitudes necessary for success in a rapidly changing and increasingly complex world.
Experiential Learning 
Explore opportunities inside and outside the classroom - in the workplace, the local community and beyond - to develop the knowledge, skills and attitudes necessary for success in your career and in life. 
Students
Student Transition & Engagement 
Programs, training and services to support and guide you from your acceptance to Guelph through to graduation and post-graduate career opportunities.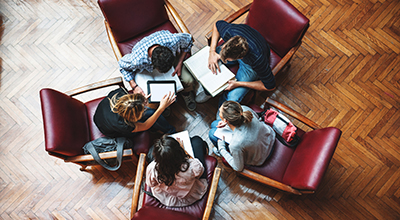 Office of Intercultural Affairs 
Explore supports available for international students, students from racially diverse backgrounds, LGBTQ2IA+ students, and students of various faith perspectives, and learn more about these communities on campus.
Aboriginal Initiatives 
Discover the supports available for First Nations, Métis and Inuit students and learn more about the community on campus.
Find us on Social Media
Student Experience on Twitter