International Education Week 2019
What is International Education Week?
International Education Week (IEW) is an annual, week-long celebration of international education during the third week of November. The University of Guelph celebrates IEW with more than 100 countries around the world. International Education Week is designed to showcase the significant contribution that international education makes in preparing Canadians for the global world and supports Canada's efforts to engage effectively on the international stage.  
This initiative is a reflection of the spirit of cooperation and collaboration from the various stakeholders across Canada who will join forces to highlight the importance of international education. Activities are undertaken by individuals, schools, colleges, universities, associations, businesses, governments and non-governmental organizations will help collectively strengthen the understanding of international education and its importance.
The Centre for International Programs (CIP) coordinates programs and events with campus partners each year to try to showcase the important contributions of our campus community to international education.
What are we trying to accomplish?
Give students, staff, and faculty the opportunity to understand International Education at Guelph, and create awareness in the campus community about International Education Week.
Promote the University of Guelph's Study Abroad Programs.
Bring different International Education stakeholders at Guelph together and invite other interested campus community members to participate.
Create an understanding and awareness of intercultural competence and how to develop intercultural competency.
Celebrate international students on campus.
IEW 2019 Calendar
Sunday, November 17
Santa Clause Parade with International Student Ambassadors
12:15-2:30 pm
Meet by the grey stairs in the UC Courtyard
Now that it's getting colder, you may be dreading the coming days of freezing temperatures , but one thing you can look forward to is the upcoming holiday season, and what better way to kick it off than by joining the International Student Ambassadors on a trip to Downtown Guelph for the annual "Guelph Community Santa Parade" on November 17th! This is a march composed of the various groups and communities in Guelph. Spectators can expect to see vintage jeeps, dancing dinosaurs, Paw Patrol characters and a whole host of wacky elves leading the ever-popular marching bands. We'll be meeting by the grey stairs in the UC at 12:15 and heading to the 99N bus stop to take the 12:30 bus to go downtown. The event runs from 1pm to 2:30pm and persons are able to stay for as long as they please. Free cookies and milk will also be available at the end of the event.
Please RSVP on GryphLife to let us know you are coming.
Paint the Cannon 
6:00pm
Meet at the Cannon
The International Student Organization is back this November with a brand new event! We're painting the Cannon! Join us with your friends this Sunday, November 17th, at 6 pm to paint the cannon with ISO. We will be writing the name of our country in our language. Come prepared with warm clothes that you don't mind getting paint on.
No registration required
If you have any questions, please contact iso@uoguelph.ca 
Tuesday, November 19
Nepal Field School Info Session
5:30-6:30pm
UC 441 (use the north elevator)
The coordinator of the Nepal Field School will provide a brief presentation providing students with more details about what they can expect when they venture off to Nepal on this 12-day trek through the mountains exploring sustainable tourism and social entrepreneurship. You can find more information about the Nepal field school on our CIP website, here.
Italy Field School Info Session
5:30-6:30pm
Alexander Hall 286
Meet with the coordinator of the Italy field school to find out more details about what you can expect for the 5-week field study course offered S20. You can find out more information about the Italy Field School on our website here.
Wednesday, November 20
Ghana Field School Info Session
2:00-3:00pm
PCH North Wing
The coordinator of the Ghana Field School, along with past UofG participants, will be here to discuss a day in the life of the Tropical Agroforestry field school. For this field school, you will spend three weeks in Ghana and earn 1.0 UofG credit. You can find out more information about the Ghana Field School here.
Thursday, November 21
iChat: Weekly Discussion with International Students
12:00-1:00pm
International Student Organization Lounge, UC 535 (located on the 5th floor of the UC, use the north elevator)
iChat is a great chance to meet other international students, discuss related topics, and enjoy a free lunch (on a first come first serve basis)! Students don't have to stay for the full hour if it doesn't fit with their schedule. Each week we also discuss topics that are related to the International Student experience on campus. iChat takes place ones a week. It alternates between Wednesday & Thursday.
Find out this iChat event and more on GryphLife.
Contact oia@uoguelph.ca for any questions
Conversation Cafe  
5:30-6:30pm
UC 441 (use the North Elevator)
The Conversation Café is a joint program with Conversation Partners. The cafe is open to both undergraduate and graduate students participating in the Conversation Partners program and the general public. It is a welcoming and informal space for peer-led discussions and activities. The Cafés promote informal discussions where cultures are shared and students have opportunities in a comfortable environment to improve their conversational English skills. This week the Conversation Cafe's topic is "Who's hungry?" and we will talk about food! Light refreshment will be provided and feel free to join us! 
Find out more information about this Conversation Cafe and others on GryphLife.
For any questions please contact convpart@uoguelph.ca
Friday, November 22 
Ecuador Field School Info Session
12:00-1:00pm
MCKN 800C
 Come learn more about this Field School to Ecuador where you will learn about Sustainable Livelihoods and Global Environmental Change. The Field School coordinator will be at this info session in order to provide more details about what you can expect on the ground in Ecuador and answer any questions you may have.
Rek the Night 
7:00-9:00pm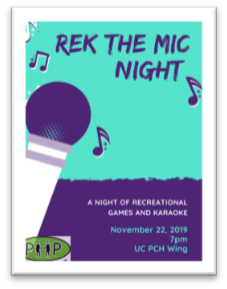 Peter Clark Hall (PCH) Wing
Attention LINK and Conversation Partners! You won't want to miss this! What better way to end a semester-long series of events with none other than REK THE MIC NIGHT. Come to PCH Wing for a night of fun games and karaoke. If you are having second thoughts, there will be FREE pizza, so come rek the mic and enjoy free food! Feel free to bring your friends to join us as well! 
Please signup for this event so that we know how much pizza to order and can prepare your karaoke song of choice!