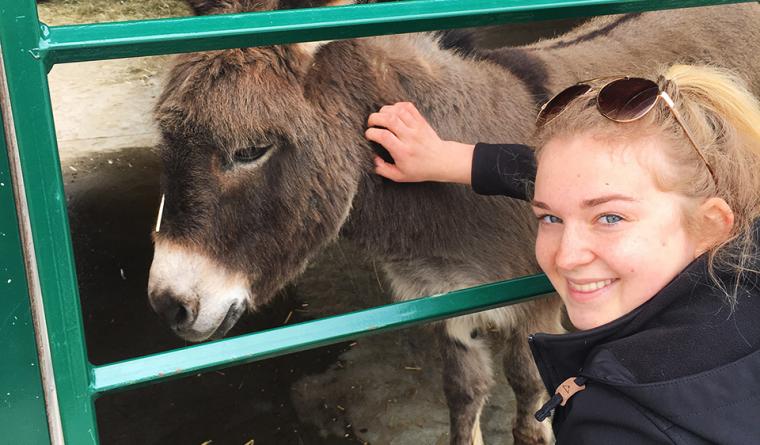 About Natalia Savor
Natalia, who is on the University of Guelph Varsity Figure Skating team, has been figure skating since she was four years old. The animal science student has always loved animals and dreamed of becoming a veterinarian. She was originally drawn to the University of Guelph by the agricultural programs and the Ontario Veterinary College, but being able to also continue her passion for skating at U of G made it a perfect fit.
Program: Bachelor of Science in Agriculture – Animal Science [1]
Year of Study: Second Year
Hometown: Pickering, Ontario
---
What varsity team are you on and how long have you been involved with the sport?
I am currently on the University of Guelph Varsity Figure Skating team. I've been skating since I was 4 years old and it has been a dream come true to continue with this sport and compete at a varsity level! 
Why did you decide to study at the Univeristy of Guelph?
I've wanted to be a vet since I was 6 years old and growing up I knew the University of Guelph had the only vet school in Ontario, which made me always consider it. I visited the campus when I was in Grade 9 and instantly felt it was perfect. I found it absolutely beautiful and both the campus and the city felt like a great fit for me. Also, U of G is the only university in Ontario that offers an agriculture program.
What do you like best about your program?
What I love about my program is that it gives me a fact-based outlook on the agriculture industry, something I knew nothing about. Being from a city, I always heard a lot of talk about animal welfare and media portrayals of the mistreatment of production animals. What I learned is that most of this talk isn't true and that everything in the agriculture industry is done for a reason. I am now aware of the huge gap there is between this industry and the rest of society and am doing my best to share what I am learning with my family and friends so they can learn more about it as well. I have developed such a keen interest in agriculture and I am looking forward to continuing to learn more in the future.

What kind of time commitment does being a varsity athlete involve and how do you balance that with school work?
Being on the skating team means that I am up early every morning for my two hour practices at 6 a.m. My team practices five mornings a week and on Fridays we have an extended morning practice. Aside from this, we are required to coach for one hour, one time per week throughout the year. In total, I have about 12 hours of training time per week but other teams have even more. While it was tricky balancing skating and school at first, I found it extremely helpful to get into a routine. When I know that I have work to do, I am able to time manage very well. That might mean I have to skip going out with friends some nights or spend more time at the library instead of watching Netflix, but the sacrifice is definitely worth it. 
Where are your favourite spots to hang out on campus and around Guelph?
On campus, I love the Bullring! I must have used half of my flex dollars there in first year. It feels like a bigger version of the Central Perk. Around the city of Guelph, I really like this restaurant downtown called Buon Gusto. I've been there a couple of times and always order the Linguine Romantina. It's delicious!
Knowing what you know now, what piece of advice would you give to your high school self?
I would tell myself to be more outgoing! I have come to realize that there is so much to learn from everyone around you. Ask lots of questions and learn from experiences. You never know when opportunities might arise and how the connections you've made could help you!