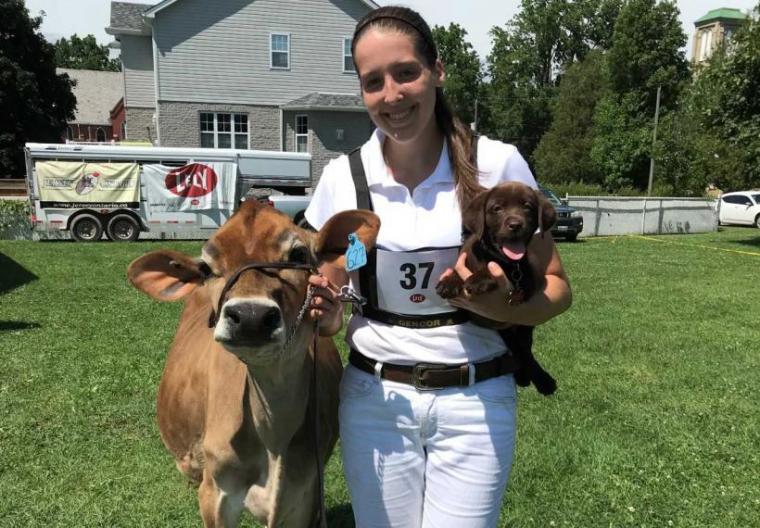 About Amber Zupan
Fourth-year animal biology student Amber Zupan has a passion for working with livestock. She's an animal enthusiast that can be seen around campus participating in many of the great activities that the University of Guelph (U of G) has to offer. Amber's goals have changed since discovering that livestock animals are just as interesting as cats and dogs, if not more!
Program: Bachelor of Science - Animal Biology [1]
Year of study: 4th year
Hometown: Niagara Falls, Ontario
---
Why did you decide to study at the University of Guelph?
From the time that I was little, I knew that I wanted to work with animals, and the U of G is the best place in Ontario to do so. When it was finally time to apply in grade 12, I went on campus tours of all the schools I applied to. Upon stepping on to the U of G campus, I felt so at home and welcome. From the moment that I hit the edge of campus and I saw the waving and smiling faces, I couldn't help but be so excited to be here. Every single student that I talked to told me how much they love U of G, and three years later, I certainly agree.
What do you like best about your program?
Coming into first-year, I only really knew things about companion animals and never even thought about the world of production animals. I love that the animal biology program gives a completely rounded education on all types of animals and then later allows you to tailor your schedule based on whether you'd like to go into the companion or agricultural animal stream – or you can do a mix of both. I also really like that most of our lectures are complemented with hands-on labs and trips to help build our understanding of what we are learning.
Do you have a favourite class or professor?
My favourite class I have taken thus far is Animal Production Systems (AGR*2350) with Prof. Katie Wood. I really enjoyed this class as it was my first look into animal agriculture and it really sparked my interest in learning more about the industry. My favourite part of the class was going on farm tours during the lab portion, so that we could connect what we learned in lecture to real-life. My favourite professor is also Prof. Wood. I've had the opportunity to work with her the past couple years and I have witnessed first-hand how dedicated she is to her research and how involved she is with all of her students and their projects.
What residence did you live in during first year?
I lived on the North side of campus in Mills Hall – go Pheonix!
How are you keeping busy this summer?
This summer I am a full-time Research Assistant under the supervision of Prof. Wood, where I help her, and her grad students with their various projects working with feedlot steers out at the Elora Beef Research Centre [ERBC]. When I am not at ERBC, you can find me helping out with different tasks within the lab. I am also working on a dairy farm in Centre Wellington where I help with milking, general farm chores and caring for the heifers that we take to shows across Ontario.
How do you get involved on campus or in Guelph?
Since coming to Guelph I have had the opportunity to be an orientation volunteer, a campus ambassador, tour guide, and a member on the Student Federation of the Ontario Agricultural College and the Animal Biology Students' Association. I have also participated in intramurals since first year and hope to continue to do so into my fourth year. My absolute favourite thing to get involved in is College Royal where I have had the opportunity to participate in events like Super Thursday, Square Dancing and the Dairy Show.
Outside of school, I am a member of the Eramosa Dairy Club, as a part of Wellington County 4-H.
Where is your favourite spot to hang out on campus?
I love to hang out around the trees on Johnston Green during the Fall. It is so relaxing to sit and enjoy the beautiful bright orange colours of the trees.
Do you have favourite spots in Guelph?
I love going to the Boathouse when the weather's nice. There's nothing better than canoeing and ice-cream!
What are your post-graduate plans or goals?
Upon finishing my undergrad in animal biology, I hope to continue my studies by completing a Master of Science in the Department of Animal Biosciences.
Knowing what you know now, what piece of advice would you give to your high school self?
I would go back to tell my high school self that, while grades are important, you still need a balance between school and extracurriculars. I would also tell myself not to be afraid of new challenges and experiences. I feel this would have been good advice to have because I came to the U of G with a set plan of what I wanted to achieve during my undergrad and what I wanted to do post-graduation. This left me with a lot of stress because I had such specific expectations for myself. After realizing that not everything goes as planned, I finally found where I was meant to be. I had no idea that all the experiences and opportunities that I was able to take part in would help to spark my passion for animal agriculture, specifically in beef and dairy cattle. I used to just be a city girl from Niagara Falls, but you can now find me working on a dairy farm, helping with research in beef nutrition and trying to get involved in all the things that the Ontario Agricultural College has to offer.
What's one fun fact about yourself?
I am currently raising a chocolate lab puppy named Carlton through Autism Dog Services.