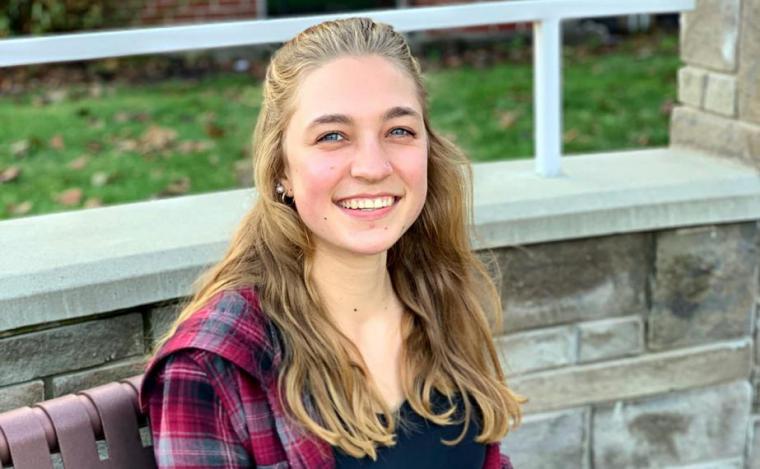 About Andrea Dohner
Program: Associate Diploma in Agriculture [1]
Year of Study: Second Year
Hometown: Elgin County
Andrea Dohner is a charismatic U of G, Ridgetown student who is enrolled in the Associate Diploma in Agriculture program. Andrea was drawn to our Ridgetown campus because of the city's small-town atmosphere and the campus' intimate, homey feel. She loves working with cows and hopes to use her experiences at Ridgetown to fuel her career as an educator teaching agriculture.
---
Why did you decide to study at the University of Guelph, Ridgetown Campus?
I love agriculture but I didn't think the city life in Guelph would be for me, so I chose to attend the Ridgetown Campus. I love the quiet, small-town atmosphere and the homey feeling that the campus gives off. Since the campus is smaller, everyone seems to know everyone and there is always a familiar and smiling face where ever you go!
What do you like best about your program?
I love the hands-on labs we do! We learn in class and then get to apply what we've been taught in a practical setting. I am a hands-on learner so labs are my favourite part of learning. 
Do you have a favourite class or professor? 
My favourite classes so far were Soil Principles and Financial Management! I loved Soil Principles in first year because I've always been more interested in our dairy cows and I never really knew much about soil and soil management, but the professor Doug Young was incredibly enthusiastic and made the class very interesting! I also really enjoyed Financial Management with Bill Litwin. Finances aren't really something we ever talk about in high school so it was a really important class for everyone, especially if we'll be running our own farms one day!
Did you live in residence or off-campus during your first year? 
I lived in residence in first year! It is an amazing way to meet lots of new people and it's a nice, short walk away from classes!
Where is your favourite spot to hang out on campus?
I love hanging out in residence! Since there is only one residence on campus most of the first years live there so it's a great place to meet people and to hangout. Another one of my favourite spots is the dairy barn. I love cows, so I feel like I am at home whenever I am there and I always meet likeminded people with similar interests!
What is an unforgettable experience you've had while at Ridgetown?
The OAC winter games were really fun! They were hosted in Ridgetown this year which made attending easy! We had a fun weekend of meeting the Guelph campus students and enjoyed some friendly competition!
Do you have favourite spots in Ridgetown?
One of my favourite things about Ridgetown is that the beach is close by! On a nice day after class my friends and I liked going to the beach to relax and unwind. 
What is a hobby that makes you happy, or relieves stress?
One of my favourite hobbies is actually working with cows! Cows are so happy and carefree and they are a great stress reliever! 
What are your plans or goals after graduation?
I hope to keep working on a dairy farm and get a job related to agriculture education. I want to teach people from cities about agriculture to help close the gap between consumers and producers!
Knowing what you know now, what piece of advice would you give to your high school self?
I would tell my high school self to be kind to myself and that everything happens for a reason. I previously went to school for Veterinary Technician but I slowly realized that wasn't the right choice for me. Choosing to attend Ridgetown was a hard and frustrating choice, but I know now that people are always changing and that it is okay to change your plans. 
What's one fun fact about yourself?
One fun fact about myself is that my family is from Switzerland, so I can speak Swiss German!