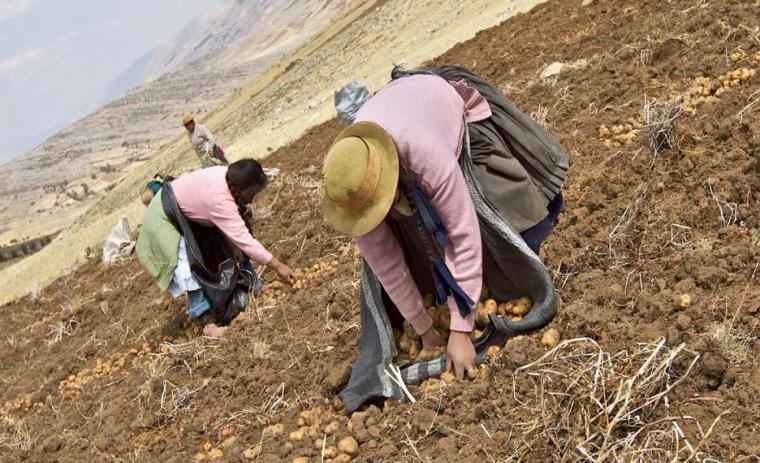 Latin America is biodiverse, with prosperous agricultural industries. The region is a world leader in food production and exportation. But local populations, including Indigenous peoples and rural communities, face significant food security problems.
Prof. Silvia Sarapura, two-time OAC alumna (M.Sc. Capacity Development and Extension '08 and PhD Rural Studies '13), supports these vulnerable populations through her research and knowledge extension.
"Applied research is more powerful and fruitful because it allows researchers to work directly with the affected communities and we benefit from their knowledge as well," says Silvia. "It is an information sharing approach where everyone participates and contributes to the research, while we address the problems and needs of the communities. It results in better recommendations and evidence for policy development."
Silvia has years of agri-food research experience working in Africa, Asia and Latin America. She is passionate about improving the lives of rural communities. Much of her focus is on people-centered development, gender research and capacity development.
Before pursuing her master's degree, she worked as a potato researcher for 10 years at the International Potato Center (CIP) in Peru, and she continues to collaborate with the center today.
Silvia and her students are conducting research for the Andean Initiative of the CIP, which is designed to preserve the unique agrobiodiversity of the Andean region of South America, promote healthy diets and build a climate-resilient future for the local populations.
"The Andean ecosystems are rich and unique in biodiversity, cultural diversity and natural resources," says Silvia. "It is the center of origin for crops and highly nutritious foods that underpin ecosystems, economies and diets."
Silvia explains that although the region has enormous potential for investment in high-value markets and sustainability, climate change is having a significant impact on food security.
"We need to better understand the climate extremes experienced in the Andes and how people, the environment and agrobiodiversity adapt to these changes," says Silvia.
"This knowledge will allow us to be better prepared for what might happen elsewhere in the world as a result of extreme and unpredictable weather patterns."
Silvia's innovative work led to her recent appointment on the Inter- American Institute for Cooperation on Agriculture's (IICA) Advisory Council for Food Security in the Americas.
IICA is a specialized agency comprising representatives from 34 countries in Latin America and the Caribbean. They act as a bridge between international agricultural experts and the countries' governments to achieve agricultural development and rural well-being.
The advisory council comprises agri-food specialists from around the world who will work to monitor the impact of the COVID-19 pandemic on food security.
Although IICA's advisory council is in its early stages, Silvia's involvement presents exciting opportunities for impactful research and student engagement in applied research.
"We have to consider that food security is a crucial element for the survival and well-being of these populations," says Silvia. "New measures may need to be put in place to support food security and nutrition.
They asked me to be a part of the Council, which I didn't expect, but it will have big impact. For me, it is an exciting opportunity to engage students and the University with the Americas."
This article was originally published in the LIBRANNI 2021 / Vol. 3 [1]
---
To keep updated on the latest work from the IICA Advisory Council for Food Security in the Americas visit iica.int/en/advisory_council [2]
Read more:

 

Read more: