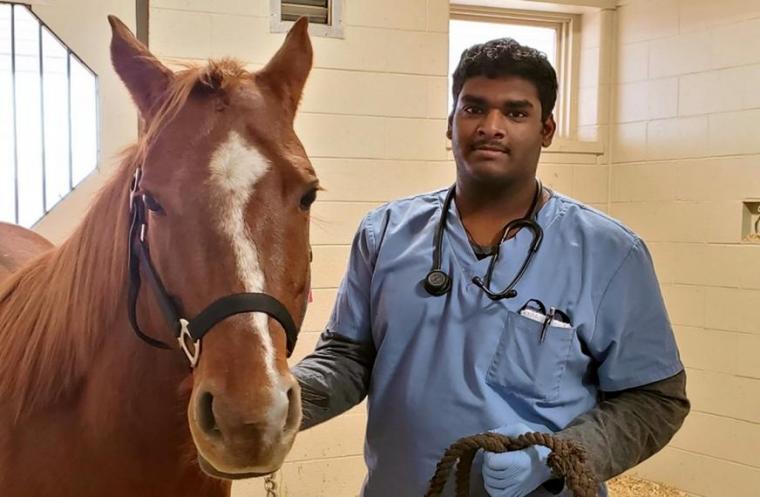 About Keerthehan Hector-Ratnanandan
Keerthehan is a first year student in the Bachelor of Bio-Resource Management (BBRM) – Equine Management [1] program. He actually didn't know a lot about horses before entering the major, but pursued the program to support his hope of applying to the Ontario Veterinary College. Despite only being in his first year, he's already learned a lot about horses and the equine industry.
Program: Bachelor of Bio-Resource Management (BBRM) – Equine Management [1]
Year of Study: 1st Year
Hometown: Scarborough, Ontario
---
Why did you decide to study at the University of Guelph?
I decided to study at the University of Guelph for their exceptional Equine Management program.
What do you like best about your program?
Apart from working and learning about horses, interacting with a great group of people who share my passion and interest is the best part of the program.
What courses are you taking this semester?
This semester, I am taking Biology of Plants and Animals in Managed Ecosystems, Introduction in Molecular and Cellular Biology, Introduction in Equine Management, and Introduction in Chemistry. In semester two, I will be taking Introductory to Financial Accounting, Principles of Animal Care and Welfare, Equine Anatomy and Physiology, and General Chemistry I.
What was your background in horses?
Before starting this program, I was a veterinary assistant working with only dogs and cats; my knowledge of horses was very limited. Starting my journey in the Equine Management program, I am starting to learn more and more. I had a vague idea of careers I can pursue relating to horses, but after the careers portion in my equine management course I have learned there are many career opportunities to work with animals.
Name something in your curriculum that you, at first, did not expect but appreciate now?
The horse breed and identification unit was particularly interesting and new to me, especially the horse colour topic. Before this course, I never knew that there were very unique names for the colours and patterns of a horse. Now I am well versed in that area and appreciative of the work and effort put in by horse breeders to get a certain colour or pattern.
Any courses you've spotted that you're looking forward to?
I am very excited and looking forward to the Animal Care and Welfare course, as well as Equine Anatomy and Physiology. I have always been interested and wanted a career in veterinary medicine and both courses will be a great stepping-stone toward this goal.
Do you have any favorite professors so far?
Dr. Katrina Merkies is an amazing professor. She is great at giving assignments that are detailed and simple to understand. The TA's [teaching assistants] are also amazing to work with. They are kind and supportive, especially when they are working with students who are new to the equine industry and have never touched a horse. They are always encouraging students to ask them questions and are willing to accommodate given the current COVID-19 barriers.
Any idea what you're interested in pursuing post-graduation?
My current goal is to apply to the Ontario Veterinary College in my third year of studies. After completing my Doctor of Veterinary degree, I would like to do a specialization in radiology. I want to be able to open my own veterinary diagnostic imaging hospital and help animals, big and small.