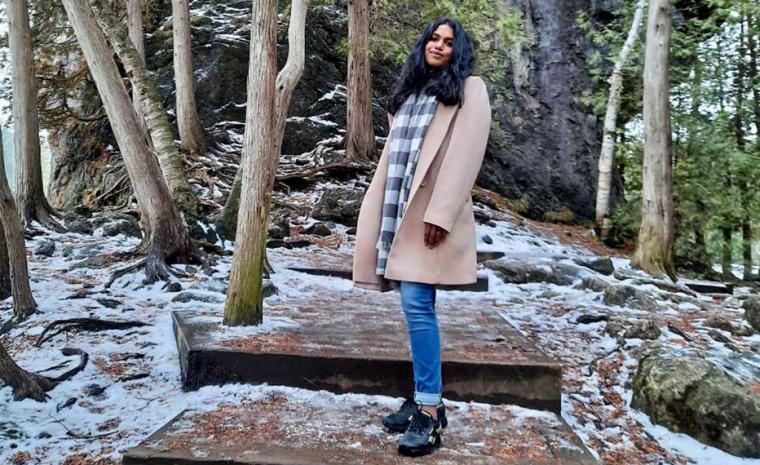 About Nidhi
Nidhi is an international student in the Environmental Economics and Policy [1] program. She is very involved in the U of G campus community and is passionate about sustainability. Nidhi volunteers as the sustainability ambassador coordinator with Sustainability Office among many other volunteer roles on campus. She hopes to pursue her master's and work in environmental and sustainability management.
Program: Bachelor of Science in Environmental Sciences - Environmental Economics and Policy [1]
Hometown: United Arab Emirates
Year of Study: Third year
---
Why did you decide to come to the University of Guelph?
The University of Guelph (U of G) is one of the top comprehensive universities in Canada known for agricultural and environmental sciences. One of the top reasons for me to choose U of G was the various opportunities that the city and community provide to their students. When I was in high school, I knew that I was passionate about the environment and sustainability, but I didn't know what the best way was to get involved. U of G provided me with the flexibility to choose among four majors in the environmental sciences degree. At the same time, U of G provides some amazing opportunities for co-op and field studies. 
What do you like best about your program?
What I love about my program is the opportunity to integrate my interests and diversify my studies. For instance, by focusing on the policies, regulations, and economics of the sustainability and environmental sector, I am also able to expand my learning in different fields such as geographic information systems (GIS) and environmental risk management. 
In what ways are you involved on campus? 
I love volunteering across campus and in the community of Guelph. No matter how nervous I was, as soon as I came to Guelph, I immediately dived into the action of engaging myself with the community and the response that I got back from the community was amazing! I am involved with various clubs and organizations such as the Environmental Sciences Student Executive (ESSE), Gryphon Reads Bookclub, International Student Services and Admission Services. I am currently involved heavily with the Sustainability Office on campus where I volunteer as a sustainability ambassador coordinator. It has been an amazing opportunity to know about the implementation of sustainability that is being done across our campus and other campuses around Ontario and Canada. 
Do you have a favourite class or professor? 
I feel like I would not do justice if I chose a favourite class or professor. However, in my first year, I took FARE*1040 which was what made me fall in love with environmental economics and policy. That was one of the most challenging classes for me to try to understand the socio-economic aspect of the environment but at the same time, I had the most fun engaging in the discussions. Some of the other classes that I enjoyed were that of MGMT*3020-Corporate Social Responsibility and UNIV*2200 Towards Sustainability. 
What residence did you live in during the first year? 
Although the residences across our campus are beautiful, I did choose to live off-campus as soon as I arrived in Guelph. I resided near College Avenue, which was amazingly close to campus and knowing me, I needed to live in a space where I could cook for myself and give myself space. Saying that, if anyone is ever looking for off-campus residences, the university and the city has amazing opportunities for housing! 
Where is your favourite spot to hang out on campus?
My favourite spot to hang out is at the Bullring! No one beats the vibes there and it is always so calming to get a coffee and complete schoolwork. 
What is an unforgettable university experience you've had?
The moment that I am going to cherish for my life just happened recently when I lead the environmental justice raining with the Sustainability Office. First, just saying that feels unreal and the love and the support we got from our community to bring the discussions of challenges that are faced by the marginalized communities was surreal. I am very excited about my future endeavours on the topic and having more conversations to close the gap in accessibility and create inclusive and safe spaces. 
Do you have favourite spots in Guelph?
Guelph is filled with great places! My favourite spot in Guelph is The Patch! I love thrifting and you get amazing steals there. Check it out! 
What is a hobby that makes you happy, or relieves stress?
I love going on walks. Guelph is filled with some amazing trails! They are everywhere and I love going on long, relaxing walks. Other than that, I love biking! 
What are your plans or goals after graduation?
That's a difficult question for sure! I am just diving into my third year and I feel like I still have so much to explore. I would say that my plans involve me potentially doing my master's and dipping my feet in the water for environmental and sustainability consultancy and management. 
Knowing what you know now, what piece of advice would you give to your high school self?
I would say that always stay involved and keep looking for opportunities around you! It can be very overwhelming coming to the university and seeing multiple opportunities around you but believe me, it always gets better. Just prioritize and keep yourself engaged with the university and internal and external organizations. 
What methods have you found to adjust to remote learning during the period of online class delivery? 
I have been working and of course, studying from home and what I found very helpful is to not take my laptop and work to my bed but have a designated space for my studying and work. It has helped me so much because it keeps my spaces separate and helps me focus on my tasks. At the same time, taking breaks because screen time can be too much! 
What's one fun fact about yourself?
One fun fact about me is that I love gardening!