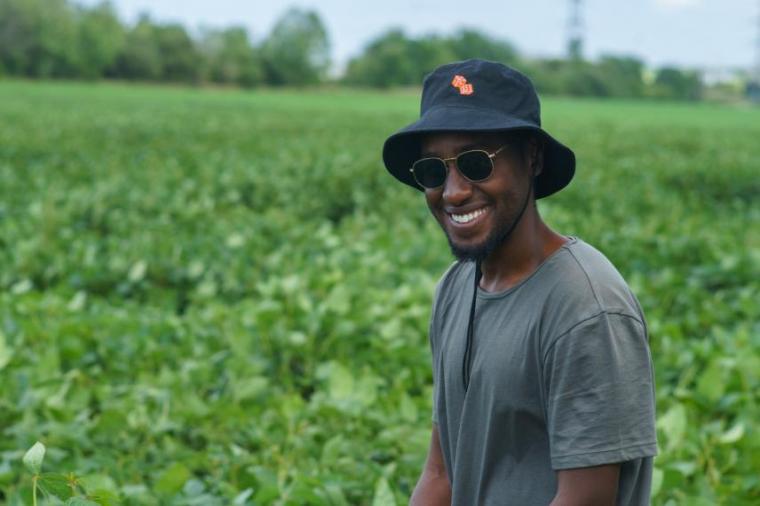 Deus Mugabe, PhD candidate in the Department of Plant Agriculture [1], is researching Canadian soybean breeding and genetics with a twist.
He considers his approach to his PhD program a bit unconventional.
"When I started grad school, I was gaining a lot of knowledge in natural sciences especially in areas of plant breeding, genetics, and molecular biology. As I progressed into my program, I realized that I wasn't getting much training or exposure on how my research could incorporate social and economic aspects to address real world challenges in agri-food."
He explains that he chose the University of Guelph (U of G) for two primary reasons. Firstly, his area of research and faculty advisor, Dr. Istvan Rajcan [2], and secondly, the option to add an international development studies (IDS) specialization to his graduate program. 
The Guelph Institute of Development Studies (GIDS) [3] enables graduate students to build a collaborative specialization into their program to explore an area of their research through an international development lens.
Deus's primary research is in soybean breeding and genetics – specifically with sclerotinia stem rot (SSR) or white mold. SSR is a highly unpredictable fungal disease that is devastating to soybean production across Canada.
"I'm screening 193 different varieties that are adapted to Canadian environments to identify the gene regions that are associated with SSR disease resistance," says Deus. "Using resistant varieties is the least expensive, safest, and most effective strategy for controlling diseases in crops. Currently soybeans do not have any commercial cultivars with complete resistance to SSR."
He explains that the research would improve the understanding of SSR resistance mechanisms and help to create tools for efficient breeding. With the identification of causal genes, there is an opportunity to breed resistance into high performing varieties that are already adapted to Canadian environments.
Deus previously worked for One Acre Fund, a non-profit social enterprise that provides agricultural finance and training to smallholder farmers in African countries to reduce hunger and poverty. 
His international development specialization and case study will focus on the impact of plant breeding technologies on smallholder farmer livelihoods through a comparative study.
"My goal for the international development studies (IDS) specialization is to evaluate the role of plant breeding in improving smallholder farmer livelihoods in parts of Africa. For example, in regions where genetically improved seed is available, do adopters see more crop production compared to non-adopters? Does this translate to better livelihood for the adopters? Why or why not?"  
"Food insecurity is strongly interconnected with social and economic factors. This specialization will provide me with interdisciplinary tools that would make my crop science expertise more useful and applicable to solving food insecurity problems especially in disadvantaged communities."
Deus was born in Uganda, his parents fled Rwanda in the 1960's. The family later returned to Rwanda in the mid 1990's when Deus was 5 years-old. He grew up around extreme food insecurity issues which largely influenced his pursuit of education in agriculture.
"As a scientist, I aspire to work directly with people and improving life," says Deus. "Agricultural production in Rwanda was very poor in my experience growing up. Most of my family spent all their time farming and the yield wasn't even there. I felt there has to be a better way to do this."
To enhance his experience as a graduate student, Deus participates in numerous extra-curricular activities on campus.
 
He is currently the Chair of the Corteva Agriculture Science Symposium Organizing Committee [4], the Vice President of the Ontario Agricultural College – Graduate Student Council (OAC-GSC) [5], and the Plant Agriculture Department Representative on the Graduate Student Association (GSA) [6].
"I was fortunate to get involved on campus right away [before the pandemic]. It is important to build other skillsets outside of my lab work and plant agriculture training," shares Deus. "These roles have allowed me to build further connections and gain valuable skills in leadership, communication, training and project management."