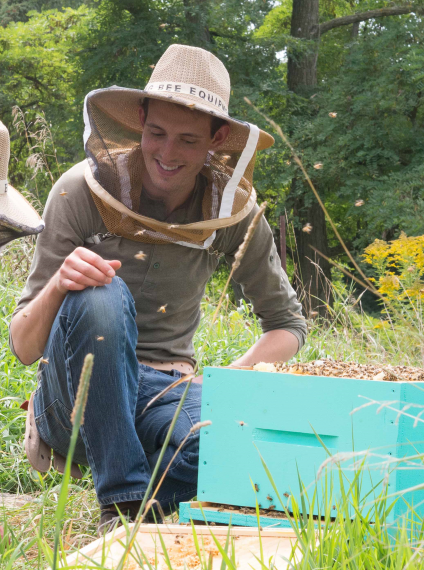 Dan Borges
Honeybee research technician
Master of Science, Environmental Sciences [1]
Dan Borges' passion for insects and entomology started at a young age. He continues to make a positive impact on the lives of beekeepers, farmers, and other industry partners working with the Ontario Beekeepers' Association (OBA) [2]. We recently chatted with him to learn more about his role and experience at the University of Guelph.
---
Tell us about your employer.
I work for the Ontario Beekeepers' Association (OBA). The OBA is one of the oldest established farm organizations in Ontario, and its overarching goal is to support beekeepers across the province. Whether a beekeeper has one hive, or over one thousand, the OBA helps keep beekeepers connected and informed. The organization helps facilitate local associations, where people can meet with other beekeepers in their area to network, share best management practices, and discuss current issues in the industry.
The OBA also hosts a number of large conferences and meetings each year, further encouraging networking among beekeepers in the province, as well as bringing in commercial beekeepers, researchers, and other experts in the field from around the country to present the newest findings in honey bee research and bee health. The OBA produces a bi-monthly publication, the Ontario Bee Journal, to help keep all beekeepers informed, whether or not they can make it out to conferences and meetings. All of this helps ensure that beekeepers in Ontario can keep their bees healthy and productive.
Tell us about your role.
I am part of the Technology-Transfer Program (TTP), a small team of research technicians that help with education and outreach for the OBA. Our two main mandates are research and education. In terms of research, TTP focuses on practical, industry-level research projects. While some of these projects are designed and carried out by TTP using our research hives, a big part of my job is collaborating with researchers and universities in the province, and across Canada. We collaborate quite extensively with the research team at the University of Guelph (U of G), working together on a wide variety of projects encompassing honey bee health, best management practices, and selective breeding.
We also work with other universities in the province, as well as across Canada. For the past number of years, we have had the opportunity to collaborate on a couple of Canada-wide projects, led by researchers from York University and the University of British Columbia, and focused around using genomic and proteomic tools to help identify and diagnose honey bee health issues. On the education side, TTP has a big role in running beekeeping workshops around the province. The workshops range from introductory workshops for new beekeepers, to integrated pest management, to more advanced workshops teaching beekeepers how to raise queen bees, and how to create a breeding program. We also speak at local association meetings and conferences, helping to disseminate the findings from the research projects we lead and collaborate on.
What is the most rewarding part of your job?
I really enjoy the variety that comes with my job. I enjoy being able to work outside in the field most of the spring, summer, and fall, working with bees, and travelling around the province working with different beekeepers. The connections I've made with people in the industry are definitely a big highlight of this job, as is getting to travel around and see a lot of rural Ontario. However, if I had to choose the most rewarding part of my job, it would be running workshops. I am really passionate about education, and there is nothing like spending a day outside in a bee yard, teaching beekeepers about the industry, and how to keep their bees healthy and productive. I may be biased, but I think honey bees are incredibly fascinating insects, and I love being able to see the excitement in the students' faces as they learn cool facts about bees, and get excited to keep bees of their own. It's also really rewarding to teach an introductory workshop to new beekeepers, and then run into them years later at one of the OBA meetings or conferences, seeing how their operations have expanded, as well as their interest and involvement in the industry as a whole. 
What industry trends are you keeping an eye on?
One of the biggest issues facing the beekeeping industry at the moment is the Varroa mite – a parasitic mite that infests honey bee colonies. Left untreated, this mite will generally kill a colony after two or three years. While there has been a lot of research into different treatments for this mite, an industry trend I am keeping my eye on is the growing body of research into natural resistance to the Varroa mite. Different populations of honey bees have higher tolerance for Varroa than others, and there has been a lot of interest in what types of behaviours and physiological mechanisms confer resistance to the mites in these populations. Some of this research has been done at U of G, and it has been an amazing opportunity to collaborate with researchers at U of G – as well as other universities – in delving into these questions further.
I am looking forward to the development of more accessible field tests for identifying and measuring these behaviours, to allow for bee breeders to incorporate them into their operations. Being able to select for and breed for these traits can help improve the genetic stock of honey bees here in the province, and help reduce the reliance on chemical treatments for Varroa. While I don't think the need for treatments will disappear overnight, I think stronger breeding for pest and disease resistance, and incorporating this resistant stock into more operations, can help make integrated pest management strategies more robust and sustainable, and strengthen the industry overall.
What has had the biggest impact on your career? 
The opportunities that I had while doing my master's to attend research conferences and beekeeping meetings have had the biggest impact on my career. One part of that was being able to connect with the industry, and to really put into perspective why I was doing what I was doing, and why my research mattered. It was amazing to meet beekeepers and talk about my research, and see their interest in it, and that they thought it would be valuable to the industry, and could help make keeping bees healthy that much easier.
The other big part of why this had an impact on my career was the amazing learning and networking opportunities that it provided. I was able to learn so much at these conferences, and meet and network with researchers and field technicians from around the province and around Canada. My current job involves collaborating with researchers and extension workers, many of whom I first met and built a relationship with at these conferences while doing my master's. It was at a number of these conferences and beekeeping meetings that I met members of TTP, and first got an opportunity to collaborate with them, ultimately being offered a job with them while finishing up my master's.  
Why was completing your master's a good fit for you?
Completing my master's gave me the opportunity to explore and cultivate my passion about insects, and my interest in research and education. It was great to be part of the research team at U of G, and I was able to meet and network with so many people doing really amazing work. I feel that my grad work really prepared me for my current job, both with regards to the field work and research I do as part of my current role, as well as working with and collaborating with researchers, beekeepers, and other industry partners. I really feel like my research had an impact on the beekeeping industry, and the connections and relationships I made while doing my master's helped inspire me to continue to work in my field. I am really grateful for my time at U of G, and am glad that through my current job, I continue to have the opportunity to collaborate and work with the Honey Bee Research Centre [3] and the amazing people there. 
What's a piece of advice you'd like to share with current students?
The importance of putting yourself out there, and networking with other students, other researchers, and industry partners can't be overstated. Everything that you learn in your courses is really important, but I would remind students that there is so much learning that happens outside of the classroom as well. I would encourage students to attend as many conferences, meetings, and events as possible, and to ask questions and meet people. I believe that networking can be a daunting task for a lot of students, but it is an important skill to practice, and a very rewarding one. Connecting with other people in your field can be incredibly inspiring and educational, and it can help open doors to new possibilities in terms of areas of research or potential career options.