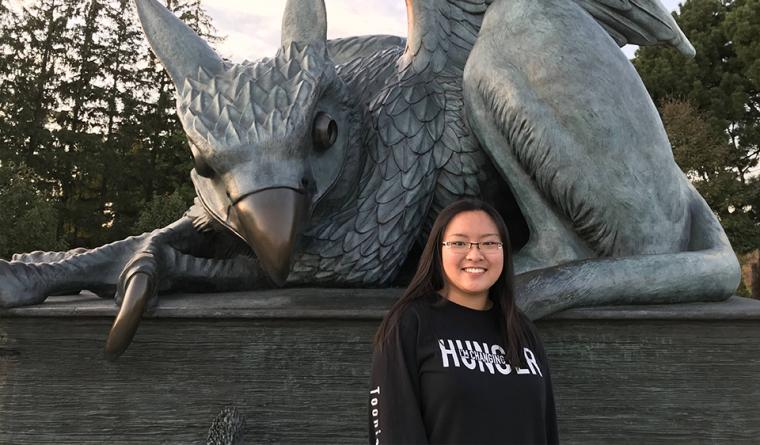 About Mandy Lam
Mandy enjoys the scenery and slower pace in Guelph compared to her experience living in the city of Toronto. She was able to combine her passion for food, science, and business by taking the Food Industry Management program and gained hands-on experience during her co-op term. She is involved in the campus community at U of G and plans to make an impact in the food industry after graduation.
Program: Bachelor of Bio-Resource Management - Food Industry Management [1]
Hometown: Toronto, Ontario
Year of Study: Third year
---
Why did you decide to come to the University of Guelph?
The Ontario Agriculture College is well known in the industry and I was planning to pursue a program related to food since the science behind food was interesting to me in high school. The Food Industry Management program seemed captivating to me as a well-rounded program involving both food science and business. U of G resonated the most with me when I visited campus, especially the green scenic and calm environment compared to Toronto. The kindness of the people that I met while being on campus for the first time facilitated a warm and welcoming atmosphere as well.
What do you like best about your program?
Food Industry Management offers a unique niche allowing me to learn about both the business and science aspects of the food and agricultural world. In addition to the program itself, the co-op work term helped set me up for greater success by guiding me to opportunities that allowed me to explore potential career paths in the future.
In what ways were/are you involved on campus? 
In addition to academics, the Guelph Student Mentorship Society (GSMS) is a club that 3 other students and I have come together to create with the aim to help undergraduate students hoping to pursue post-graduate programs and learn more about programs available through mentorship. Currently, my main involvement is helping to get the club off the ground. In the past, I have participated in Supported Learning Groups (SLGs) to help improve my academics. I hope to become more involved in the future by joining other clubs such as the American Sign Language (ASL) club.
Do you have a favourite class or professor? 
During my first year, I had the pleasure of meeting a passionate teaching assistant who provided me with endless support in office hours and set me up for success in my accounting course. A great professor/teaching assistant comes a long way in addition to hard work!
What residence did you live in during the first year? 
South residence in Maritime Hall.
Where is your favourite spot to hang out on campus?
Generally, the 5th floor of the McLaughlin Library is my favourite place to study. However, I've recently grown to love the airport lounge in the University Centre (UC).
What is an unforgettable university experience you've had?
Orientation week was one of the most unforgettable University experiences I've had. I remember being in the Alumni Stadium watching everyone unite wearing colours of their residences while dancing to various songs with the sun setting in the background.
Do you have favourite spots in Guelph?
The Eramosa River by the Boathouse in downtown Guelph is a great spot to be in both winter and summer time. 
What is a hobby that makes you happy, or relieves stress?
I love swimming! In my spare time, I go to the Athletic Centre for an hour of length swimming.
What are your plans or goals after graduation?
My plan after graduation is to stay involved in the food industry. I love that my program can combine science and business in a very applicable manner. Who doesn't love food? We eat it everyday and it's fascinating to be able to oversee the process that happens between the farm to the table. 
Knowing what you know now, what piece of advice would you give to your high school self?
I would ask my past self to step outside her comfort zone and take on more opportunities even when facing fear. Throughout university I put myself more out there to be friends with people (even when it's uncomfortable), go to office hours, join study groups, and join clubs which have all enhanced my university experience.
What methods have you found to adjust to remote learning during the period of online class delivery? 
Go to Supported Learning Groups (SLGs) [2]! They have helped me so much that I can't begin to express it into words. My grades have heavily benefited due to my participation in courses such as Introductory Biochemistry (BIOC*2580) and General Chemistry II (CHEM*1050). I strongly believe that there should be SLGs for all courses, but if there's an SLG for the course that you're struggling with, don't be afraid to go and ask questions throughout the semester, asking questions is what facilitates learning. Who knows maybe you'll meet some lifelong friends along the way.
What's one fun fact about yourself?
I have over 200 house plants!