Written by:
By E'layna Baker, OAC communications intern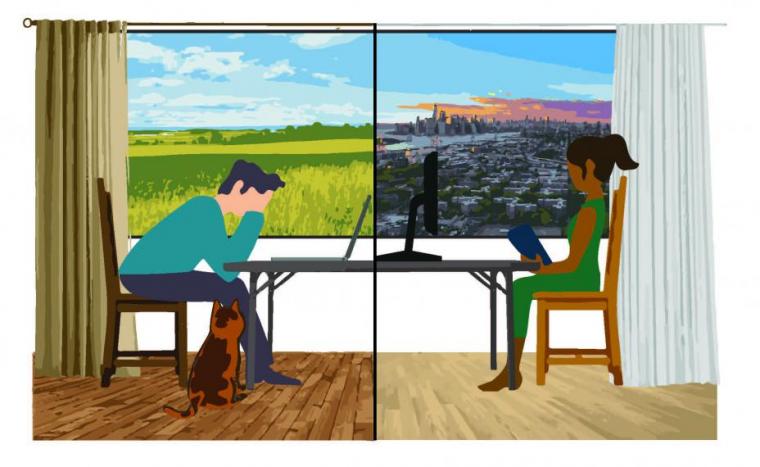 Most, if not all, aspects of regional economies hinge on digital telecommunications infrastructure, yet rural and remote communities still face a pressing demand for better-quality internet connectivity.
Rural residents can pay up to three and a half times more to receive a slower download speed than urban residents – if internet is available at all.
The "digital divide" describes the phenomenon of a growing gap between members of society with and without sufficient access to technology, digital telecommunications and broadband services. 
The Regional and Rural Broadband (R2B2) [1] project led by its founder, Dr. Helen Hambly, a professor in the School of Environmental Design and Rural Development, seeks to close this gap and connect communities across Canada through global and local partnerships and extensive research efforts in rural connectivity.
Hambly started the project in 2007 after her involvement in an Ontario-wide broadband initiative called Digital Ontario. At the time, the University of Guelph was the only rural and agricultural voice in that venture. Most digital connectivity research in Canada was focused on urban areas or non-farm businesses.
"That confirmed for me that the issue of digital development or digital economy is not the same for everyone across the province," says Hambly.
Today, R2B2 is more than a public research project: it is an industry collaborator, an informer of policy and a leader in data analysis for "all things rural Internet." 
Two of the main pillars of R2B2 are regional economic and geospatial analyses. Using this data, members seek to understand existing challenges and potential demands for the future in rural areas.
R2B2's work supports municipalities by conducting research and providing analytic feedback. They've helped to collect information and identify connectivity gaps in the regions of Niagara, Durham, Halton, Hamilton, Kingston and many others.
"The issue of poor rural broadband is a multifaceted problem that is deserving of a multidisciplinary solution," says David Worden, M.Sc. 2016, the project's lead economist. "One of the root causes of the problem is that the financial incentives for internet service providers just aren't present."
Over the years, R2B2 has gathered insight from global studies and has collected local information and data about the experience of Canadian residents living in rural areas. This "glocal" approach to research is helping to close the knowledge gap and better inform policy targeting rural and regional connectivity in Canada.
Informing policy on rural broadband starts with understanding the full scope of the challenges these communities face. That is why the data analysis involved in R2B2's research occurs on both macro and micro scales. 
"Here in Canada, there is very little research on micro-level effects, like the impact of introducing better broadband to a household," explains Worden. 
Canada also has a serious coordination problem involving stakeholders including internet service providers, residents and government, delaying tangible change in bridging the divide. So another crucial function of R2B2 is to facilitate data and knowledge transfer between these industry players. 
R2B2 is also a major research partner in Southwestern Integrated Fibre Technology (SWIFT), a non-profit, municipally led broadband expansion project created to improve internet connectivity in rural southwestern Ontario, including Niagara and Caledon. 
SWIFT supports the construction of open-access, high-speed networks to help expand broadband infrastructure in areas where download and upload speeds are below the mandated standard.
Focused on enabling greater digital equality between rural and urban populations, R2B2's mission with SWIFT has been to research the economic effects of these broadband investments across the region.
Besides the economic and geospatial data analysis, a large part of R2B2's research involves assessing the various challenges and opportunities in practising precision agriculture in Canada.
"Connected devices or the Internet of Things (IoT) in agriculture are growing a set of 'crops' like data and farm users' intelligent fixes on devices, software and digital infrastructure." says Hambly.
Farms are feeding cities, and the technologies useful for ensuring sustainable use of resources and efficient production methods often need to be supported by quality broadband services.
"It is normally outside the major metropolitan areas where major food systems are crucial," explains Hambly. "If these communities lack connectivity, or if the benefit of digital transformation isn't a possibility for these agri-food systems because the infrastructure is lacking, then all Canadians should be concerned."
As the global population increases and consumer preferences change, the use of precision agriculture could improve industry innovation and inform how agri-food should adapt to meet new and evolving challenges.
The federal and provincial governments have partnered to fund large-scale fibre-optic and cellular projects that will bring high-speed internet to every area of Ontario by 2025. Looking toward the future, R2B2 is positioned to play a pivotal role in research relevant to an agreement announced by the Ontario government in July 2021.  
The agreement will connect about 280,000 rural Ontario residences to high-speed internet. Hambly says, "There is no doubt that this is the largest single investment in high-speed internet, in any province, by any government in Canadian history, and we will continue to support rural communities who expect to realize its benefits."
Quality broadband has proven to be a crucial infrastructure. By conducting thorough research and collaborating with stakeholders industry-wide, the R2B2 project is fully committed to bridging the digital divide, with a goal of connecting every user, household and business in Ontario.
This article was originally published in the LIBRANNI 2022 / Vol. 4 [2]
---