My name is Emma Cervinka and I am a third-year student in the bachelor of landscape architecture (BLA) [1]program at the University of Guelph. I grew up in London, Ontario and always had an interest in engineering and art which is why I chose to study in the BLA program, as it provides a blend of science and design! So far, I have loved my time at the University of Guelph (U of G), and I am very sad to already be graduating next spring. 
This past semester I have had the opportunity to participate in the LARC*4620 Landscape Architecture Internship course as part of my studies in the BLA program at U of G.
This course allows students to participate in a 12-week paid work term in a professional office for academic credit. Internship placements are up to the student to find in the fall semester, and they typically begin work in January when the winter term begins. The course is worth 1.00 credit, so the remaining credits must be made up during the same semester, as I did, or by taking courses during another semester.
---
Why did I choose an internship?
I must admit that an internship was not my first choice for this semester. I had planned to attend the University of Wageningen in the Netherlands for an exchange term. Unfortunately, due to COVID-19, exchanges were cancelled after I had gone so far as to make travel arrangements, which left me scrambling for an internship placement this past December. However, the whirlwind of multiple cancellations and go-aheads with the exchange program left me exploring all my options earlier in the semester so I was acutely aware of what the internship program entailed. While I am still incredibly disappointed to have not participated in an international exchange, the internship role I took on still allowed me to move somewhere new and provided crucial educational experiences ahead of my fourth and final year in the BLA program, so I guess everything happens for a reason!
Where did I work and what did I do?
My internship placement was at ProSlide Technology Inc, a waterslide and waterpark design company based in Ottawa, Ontario. While I had the option to work remotely, I was willing to relocate to Ottawa for the duration of my placement so I could experience working in a professional studio environment which would be more conducive to my development as a designer.
As the Master Planning Intern, my role allowed me to work with the team of Master Planners, assisting them in their jobs of designing waterparks across the world. Daily I helped with digital reproduction techniques, research, data collection, the synthesis of client-facing documents and some waterpark designs.
One of my favourite tasks was creating section drawings to help illustrate waterpark theming opportunities, helping to bring a client's vision to life. Section drawings show a cross-section of a building or place as though it has been sliced across an imaginary plane. To create these drawings, I used hand and digital drawing techniques on an iPad Pro as well as Photoshop on a desktop computer. The best part of these tasks was how imaginative the theming could become. I loved to look at Disney theme parks and different movies to help inspire the different items featured in the final drawings. The section below used in a client presentation to illustrate the relationship between the slide's open flume and the views it provided guests.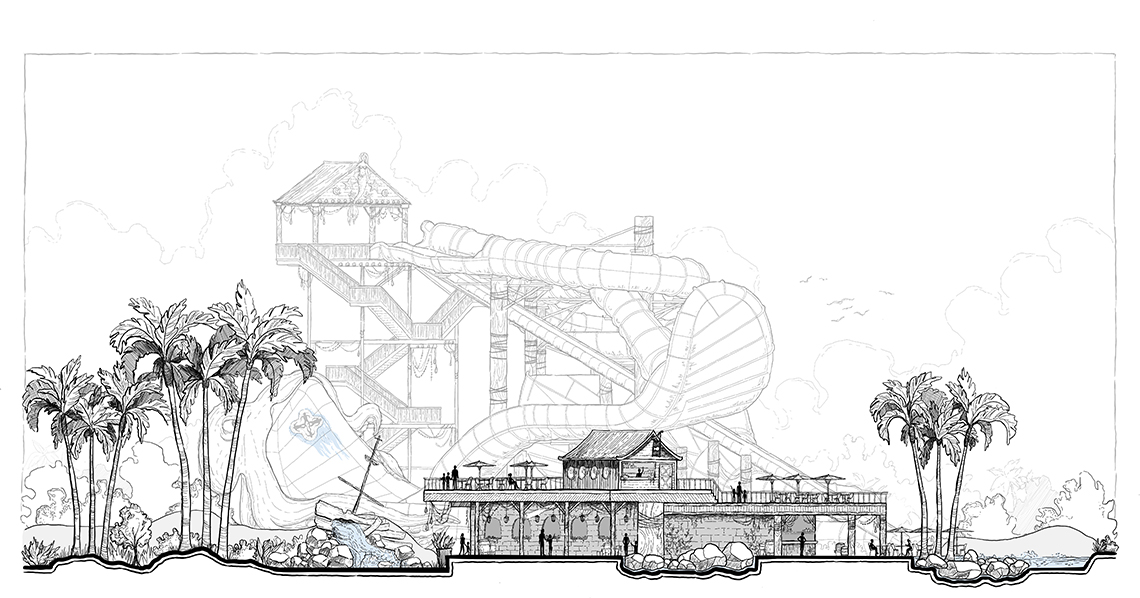 How do I feel about entering the professional world soon?
I have to admit I was incredibly nervous to start working at ProSlide, as I had never worked in such a large office before, let alone in the waterpark industry. However, the BLA program is filled with presentations and design critiques, so I felt prepared to adapt to a steep learning curve and ready to ask questions! I'm very grateful to my professors and classmates for the learning environment that is present in our studio classes, it truly helps to prepare you for professional practice!
oing into my fourth and final year in the BLA program, I feel much more prepared for what lies ahead in a post-grad world and am much less anxious about looking for a job after graduation. 
What were my most valuable takeaways from the internship?
Takeaway 1: Ask questions, even stupid ones!
One of the hardest things to do in life is to ask questions, especially when you're in a new or strange environment. This was something I had to get over pretty quickly if I wanted to do a good job at work. While it was intimidating at first, it's so much better to ask questions right away and maintain a growth mindset in every role you take on. Even though I'm four months into my placement, I still have moments where I forget where a file is saved or how to do something on Photoshop!
Takeaway 2: Design work involves a lot of business
One thing I was not expecting was the exposure to business development I received. At ProSlide, the Master Planning team works closely with the Sales and Marketing departments, and as a result, I learned a lot about the importance of strong management and other business principles. There is a lot more that goes into waterpark design than a quick sketch of some waterslides!
Takeaway 3: Appreciate where you're at!
I think the most important lesson and reminder I have had while participating in this opportunity is how important it is to appreciate where you're at, whether that be in your education or career. The experience of working in a 9 to 5 role in a new city has made me appreciate the student experience so much more! While I've learned a lot, I miss the flexibility that comes with student life, from grabbing lunch at the Bullring, to sleeping in on a Friday. I'm very excited to return to Guelph in the fall and make the most of my fourth year. I also think it's so important to appreciate the learning curve of starting a new role. There is so much to learn from one's colleagues, and there's also a lot that an established office can learn from new members of their team. 
Takeaway 4: Proper file management is a life saver!
Now, this takeaway might be more relevant to fellow LA students, but it's still important, nonetheless. Having a defined file management system and structure saves you so much time! It is a complete chore to set up, but the problems you avoid once it's done are worth it. 
What was my favourite part of the entire experience?
My favourite part of my internship was honestly the opportunity to move somewhere new for a short time. Prior to beginning work I had visited Ottawa a few times with my family or for other opportunities and I always loved the city. While the winter was super cold, I used my free time to see many national landmarks, visit different galleries and museums and skate on the Rideau Canal as much as I could. I missed my family and friends a lot, but I loved the experience of living on my own somewhere new, especially in a big city where there was always something to do!
How has my internship influenced my post-graduation plans?
This position has helped me narrow down what I would like to do after graduation and highlighted the skills I need to work on before I graduate. Hearing about the different paths that other designers took before they arrived at ProSlide helped to expose me to all the different opportunities that exist for landscape architects. I also heard firsthand experiences regarding the Landscape Architecture Registration Exams (LARE), that have motivated me to get my professional development program and exams done as soon as I can! I can also confidently say that I want to live in a big city because there is always something to do, or a new food spot to try. 
My advice for students considering an internship.
As someone who loves to travel, I would still tell prospective students that the opportunity to live abroad for a semester is an invaluable experience that you likely won't get again. If I had the choice, personally I would still choose exchange over an internship because I am of the mentality that you have the rest of your life to work. However, the internship program is a fantastic way to make connections, learn more about your chosen field and earn money and credits simultaneously! 
If you do decide an internship is right for you, I have two pieces of advice: get ahead in your courses if you can and start looking for placements early! I have to admit it was not the easiest to take courses and work full-time, so I would totally recommend taking extra courses in the summer or during other semesters to help reduce your workload. To secure an internship, you need to be proactive, no one is going to do it for you! Don't be afraid to reach out to companies or firms you are interested in and start looking as soon as you can. You do not want to be scrambling at the last minute like I was!
If you have any questions about my internship experience you can always reach out via email at ecervink@uoguelph.ca [2], or through the @Students_Of_OAC Instagram account, I would be happy to chat anytime!