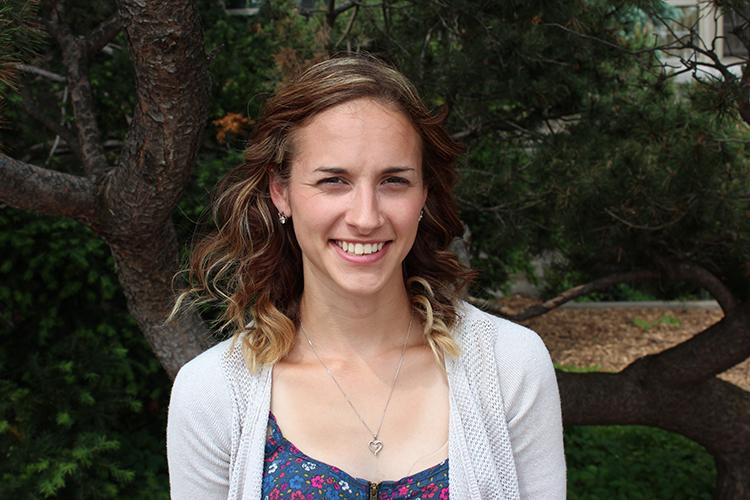 About Carissa White
Carissa White is a social butterfly. As an Equine Management [1] student, member of the B.B.R.M. student council, U of G ambassador, volunteer with Equine Guelph, and an assistant to OAC outreach programs this past year, she is not missing a beat. Carissa is in love with the beautiful University of Guelph campus and is proud to be an OAC student who enjoys the diversity that her program offers.
Name: Carissa White
Program: Bachelor of Bio-Resource Management - Equine Management [1]
Hometown: Petrolia, Ontario
Year of study: Fourth Year
---
Why did you decide to come to Guelph?
I decided to come to Guelph because it has one of the best agricultural colleges in Ontario and overall I thought it had the most to offer. My program is very unique and has allowed me to follow my passion for horses while gaining an education.
What do you like best about your program?
The best part about my program is that it is very interactive and hands-on. I'm learning all of the theory, but I am also able to practice the theory in a hands-on manner in labs.
Do you have a favourite class? A favourite professor?
I like all of my classes here at Guelph, but my favourite professor is Vern Osborne.
What residence did you live in during first year?
I lived in Bell Residence at the Univeristy of Guelph's Kemptville Campus.
What are your plans for after graduation?
After graduation I plan on continuing my education with a Master's and potentially a PhD. My main interest is breeding and genetics in the racehorse industry, and I hope to be able to pursue a career in that area after completing my education.
Do you have a summer job?
I am currently working at Hillsborough Farms, just outside of Famborough. I do daily barn chores (feeding, mucking stalls etc.), but I am active in breeding the broodmares as well as training the yearlings and foals before they are sold in the fall.
What are your favourite events and activities on campus?
My favourite activity would probably be hanging out with friends between classes and getting to know new people. I try to get involved in all kinds of events or activities on campus to branch out and get to know new people!
How do you get involved on campus or in Guelph?
I am on the B.B.R.M. student council, a University of Guelph ambassador with campus tours and I also volunteer with Equine Guelph.
What is your favourite way to procrastinate from studying?
My favourite way to procrastinate is by picking a new TV show and trying to watch all of the seasons before forcing myself to study.
Where is your favourite spot to hang out on campus?
My favourite spot to eat on campus is definitely The Bullring. They have amazing food and the atmosphere is great! My favourite spot on campus is Johnson Green. I love being able to hang out with friends there.
Do you have favourite spots in Guelph?
I think my favourite spot to hang out in Guelph is the University of Guelph campus, I'm always there!