About the CIO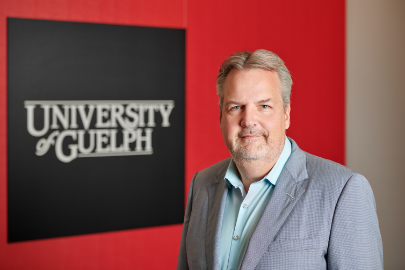 In August 2023, Robert Devries joined the University of Guelph as the Associate Vice-President and Chief Information Officer (CIO), leading the Computing & Communications Services team. Rob brings more than 25 years of valuable leadership experience in information technology (IT) across the public and private sector to his new role. Rob previously served in various technology leadership roles within the Ontario government, including Assistant Deputy Minister - Digital Platforms with the Ontario Digital Service, and Chief Information Officer (CIO) for Government and Consumer Services.
Rob has led initiatives with significant impact, such as Ontario's digital credential program, the development of the provincial vaccine certificate verifier app, and the creation of a standard vaccine credential format that was adopted nationwide. As CIO, Rob led the modernization of ServiceOntario, including the introduction of online services for the integrated driver's license and health card renewal, Ontario's online business registry and many other service-enabling digital initiatives. He continues to support the pan-Canadian Cybersecurity and Digital Trust initiative, collaborating with various levels of government as well as the broader public sector to establish interoperable and trustworthy digital credentials.
As U of G CIO, Rob oversees and is accountable for IT across the University. His early focus is on digitization, modernizing our ERP platforms, organizational effectiveness, creating a strategic technology roadmap to further enhance the University experience for all U of G stakeholders, and ensuring U of G remains a coveted destination for students, staff and faculty worldwide.
About the Office of the CIO
The Office of the CIO oversees the strategic and policy administration of the University's information technology, services and resources. This includes information security, network access and infrastructure, enterprise applications and client support. The CIO provides vision, leadership and advocacy for a secure, reliable and innovative IT environment enabling excellence in teaching, learning and research. The CIO reports to the provost and vice-president (academic).
To contact the office of the CIO email cio@uoguelph.ca