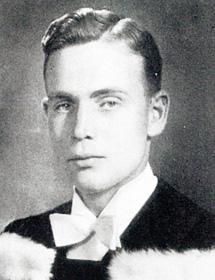 About
Leslie Laking observed the development of Hamilton's parklands as a high school student from the window of a school bus. Following graduation from OAC, he studied at Kew Gardens in England as an exchange student. He returned to Canada in 1941 and served as a forecaster and instructor in the Commonwealth Air Training Scheme.
"It can be argued that two major arboreta arising within 25 miles of one another could serve better if they were 100 miles apart. … The obvious need at an institution such as this, where many disciplines will become involved with it, is reason enough to develop such a facility here." – Leslie Laking
Leslie Laking was one of the first staff hired by the Royal Botanical Gardens (RBG) in Hamilton, in 1946, as the Hamilton City Council began to establish an urban park system for public use and enjoyment under the Ontario Public Parks Act. When he became director in 1954, Laking undertook fundraising from municipalities, the province and the private sector. His energy and farsightedness made many of the familiar landmarks at RBG possible: a new Headquarters building on Plains Road, permanent space for the RBG library and Archives, and Hendrie Park where the Centennial Rose Garden and Lily collection are located. Laking also supervised construction of the Rock Garden Tea House, the Lilac Dell, and the Maple Interpretive Exhibit. He expanded the staff to include gardeners, taxonomists, plant breeders and permanent maintenance personnel. He introduced art and education programs.
Laking's love of horticulture was part of his over-arching respect for nature. He participated actively in natural resources conservation in the 1930s, including the Ganaraska Watershed Survey. At RBG, he fostered a relationship with the Bruce Trail Association. Today, RBG intermingles managed gardens and natural ecosystems due to Laking's vision of land for public enjoyment.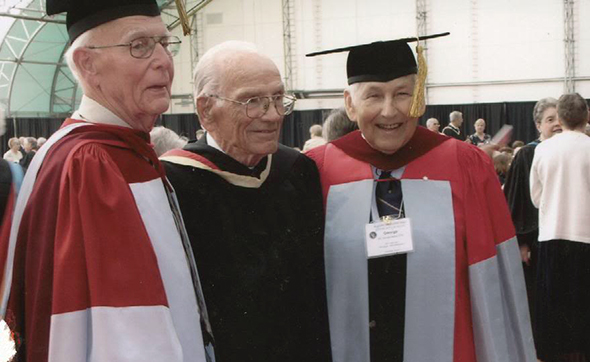 Lifelong friends and '39 classmates, Leslie Laking, Allen Knight [1] and George Atkins [2], together at Alumni Weekend in 2004.
References and Further Reading
Quote reference: Laking on the University of Guelph Arboretum in his convocation address, May 1971, where he received an honorary Doctor of Laws degree for his work at the Royal Botanical Gardens, "Alumni Day" Guelph Alumnus Magazine, May 1971, http://issuu.com/uofguelph/docs/july-august_1971__vol_4__no_4

[3]

Dr. David Galbraith, "Dr. Leslie (Les) Laking, 1916-2011" in Paradise Found, vol 3, no 3, Fall 2011
Dr. Leslie Laking, Blood, Sweat and Soil: A History of the Royal Botanical Gardens from 1930 to 1981 (Hamilton, Ontario: Royal Botanical Gardens, 1981)
Posted on September 18, 2014