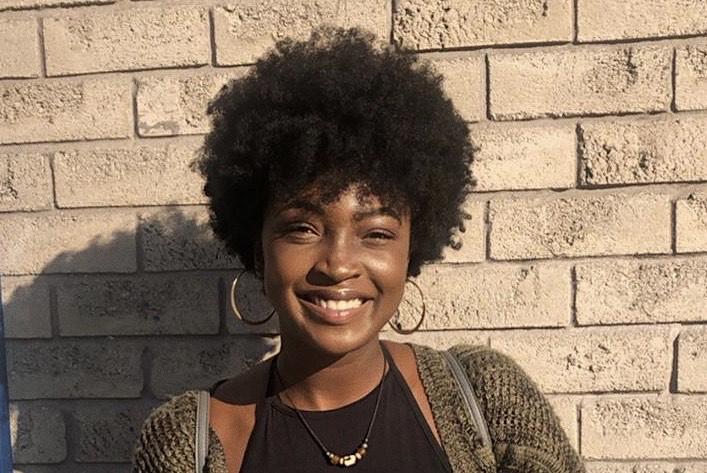 About E'layna Baker
Growing up on a small island in the Caribbean, E'layna Baker witnessed food import dependency and lack of local agricultural production. This made her decide to pursue studies in food, agricultural and resource economics at the University of Guelph. With the academic and professional experience she is obtaining in Guelph, E'layna hopes to influence agri-food policy in her home country in the future.
Program: Bachelor of Arts (B.A.) Food, Agricultural and Resource Economics (FARE) [1]
Year of Study: Entering my 4th year.
Hometown: New Providence, The Bahamas 
---
Why did you decide to study at the University of Guelph?
I found that the support for international students at the University of Guelph was unlike any other school I applied to. The Office of Intercultural Affairs made the admissions process smooth and enjoyable for me and my family. When moving to Canada from a small island, the quaint little town of Guelph was also very comfortable for me.
What do you like best about your program?
I like the fact that I can choose a specialization in the B.A. FARE program. There are three thematic streams: Food and Agribusiness Management, International Agricultural Development Economics and Resource Economics. I chose to specialize in International Agricultural Development Economics, but the program is flexible enough for me to still take courses from the other specializations, which is what I intend to do in my final year.
Do you have a favourite class or professor? 
I really enjoyed FARE*3170 [2] (Cost-Benefit Analysis) taught by Prof. Rakhal Sarker [3]. This class introduced me to the real-life process of policy-making by weighing the total net benefits of a policy change with its total net costs. We even got to formulate a policy or program and simulate our own Cost-Benefit Analysis.
What residence did you live in during first year? 
South Residence – Maritime. South can be a good place to live in first year for meeting friends and socializing. However, in my first year, the culture shock of moving to a big, scary country from a small island was challenging for me. I honestly did not enjoy the experience of living in such a large and populated residence, but it definitely helped to build character and social skills by taking me out of my comfort zone.
Where is your favourite spot to hang out on campus?
The Meditation Room in Raithby House. It is a tiny but comfortable space where I can go for a few hours out of the day to escape the noise and excitement on campus.
What is an unforgettable university experience you've had?
I once thought my final exam started at 1:30 p.m, but it actually started at 1:00 p.m. I showed up almost thirty minutes late and got the deepest stares from everyone in the room. I had to speed through the paper, but thankfully I passed it with an 86%.
Do you have favourite spots in Guelph?
My house and my friends' houses. I love my house because it is where I can go to escape everyone, sleep and relax. I always have a good time at my friends' houses because I have lots of laughs with them.
What is a hobby that makes you happy, or relieves stress?
I enjoy singing old gospel, rhythm and blues, jazz and soul songs. I also like to dance in my room to Caribbean genres of music called Rake 'n' Scrape [4] and Soca [5].
What are your post-graduate plans or goals?
I'm not completely sure as of right now. I know I would like to move back to The Bahamas at some point to live and work. I want to be an entrepreneur, as well as have some form of government influence in the Ministry of Agriculture and Marine Resources. I would like to help develop the local agricultural industry. 
Knowing what you know now, what piece of advice would you give to your high school self?
It is okay if you don't have your life "figured out" by now. Five years from now you probably won't either. Just continue to put your best foot forward in everything you try, do what makes you happy and neglect what threatens your peace of mind. 
What's one fun fact about yourself?
I am originally from a small, low-lying island surrounded by water but I don't know how to swim. I've taken swimming lessons many times in my life. I have even had friends and family try to teach me. I think it's just one of those things I will probably never get the hang of.