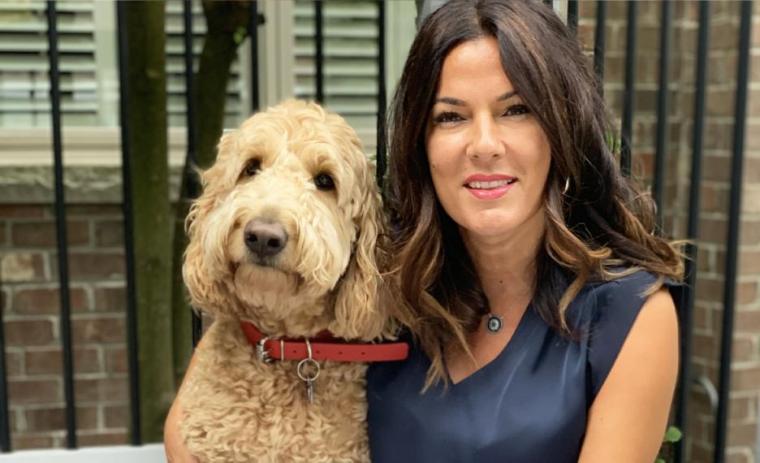 The pet food aisle can be an overwhelming experience for pet owners. Scanning labels, you can make decisions based on health benefits, sourcing practices, cost, ingredients, breed and more.
Behind each pet food formulation, there is a team of scientists providing you (and your pets) these options. And more than likely, one of those scientists is an OAC grad.
Leah Lambrakis, vice president of research and development and innovation at Simmons Pet Food, leads a 25-person team at six manufacturing facilities in North America. Her team includes animal nutritionists, food scientists, animal scientists, meat scientists, and processing and packaging engineers.
Leah, B.Sc. (Agr.) Animal Science 1997 and M.Sc. Animal Nutrition 1999, and her staff, including two University of Guelph alumni, are responsible for 3,200 pet food labels, mostly for cats and dogs, made for more than 125 companies.
This means that if you have a dog or cat at home, you've probably fed them a product Leah helped create.
She entered animal nutrition after realizing she wasn't meant to be a vet.
"I have a lot of respect for veterinary medicine, but it wasn't my calling," she explains. "I zeroed in on animal nutrition and never looked back."
Leah pursued graduate research in the Department of Animal and Poultry Science, now the Department of Animal Biosciences, and happened into her career in a somewhat unconventional way.
Searching for a fulltime job, she attended the Royal Agricultural Winter Fair to network with employers. "I walked up to a vendor and asked, 'Who makes your pet food?'"
She ended up speaking with the vice president of research and development for Menu Foods, who hired her after their conversation.
Twenty-one years later, Leah now holds that VP role with Simmons Pet Food, which acquired Menu Foods in 2010.
The same bold curiosity that helped her secure her first full-time job has spurred her career progression.
After joining the Menu Foods team, she took time to learn the full manufacturing process, including shadowing a plant operations supervisor for several weeks, and then began to push for change.
"In my early days, we looked at pet foods with a legacy lens," she says. "This is how we have always done it. This is how we have always created a meat chunk. These are the ingredients we have always used."
"I was young and curious, and I remember asking my boss, 'But why can't we try something different?' I prototyped and tested a new technology to alternatively bind our meats and it is now a widespread technology."
Her desire to understand continues to be rooted in her desire to innovate.
"I am a health and wellness geek. I am constantly reading and studying. I probably make my team crazy because I am constantly sending them articles and new concepts."
Her pursuit of innovation is balanced with a firm focus on nutritional science.
"I love innovation and being creative and expanding our capabilities and technologies," she says, "but we really need to be careful about allowing the innovation to come from marketing trends that may be outpacing the science. We need to provide complete and balanced nutrition to our pets. We have to make sure we've done it right and that the animal is thriving."
The pet food industry is incredibly competitive, and this drives a strong desire to differentiate.
"They are making a lot of unique, novel and alternative claims, so for us as an industry, it is our responsibility to make sure those claims are backed by science."
When Leah's team is creating a new formulation she challenges them to also consider food enjoyment, market trends, and novel ingredients, while primarily focusing on nutrition, food safety, shelf life, processing, digestibility, palatability, ingredient source streams and sustainability.
She's also interested in consumer insights, the animal- pet parent bond, and the feeding experience.
"It is the provider who is purchasing the product, so we have to pass through that gate first, and then it's the pet parents' observation of that feeding experience that will result in a returning customer, or not."
Consumer demands have changed considerably over Leah's career.
When she started in the industry, people were focused on what she calls, "the six noes": no artificial flavours, colours or preservatives, and no corn, wheat or soy.
The next focus was on creating a more humanized product that uses novel and alternative ingredients. Leah added a certified chef to her team to "add a culinary flair" to their products.
"I think we are now shifting from humanization to more wellness, therapeutic, solution-based diets, but with a twist on sustainability, ethical and earth-conscious considerations," she says. "This already has put a lot of pressure on our industry."
Ultimately, she loves the stretch between current practice and technology and what customers and consumers are demanding for the future.
"I think we need to push ourselves to do things better and safer, be more earth-conscious, consider sustainability, and it is critical for us to do it validated with science."
And Leah's advice to pet owners overwhelmed in the pet food aisle?
Think about what is important in your own lifestyle and then apply that to what you feed your pets. "I always say, do the best you can for your pet within your means."
This article was originally published in the LIBRANNI 2021 / Vol. 3 [1]
Read more:

 

Read more: