Milking a "Ridiculous" idea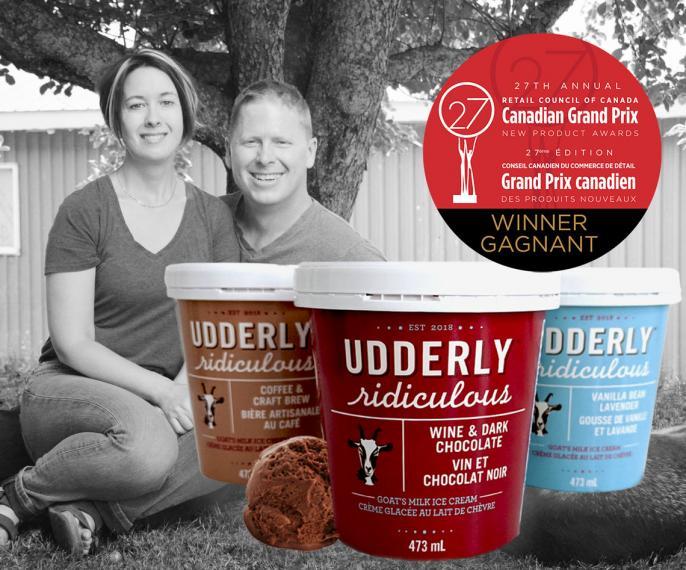 Goats are barnyard animals known for their playful nature and comical attitudes. In North America, they are a favourite at petting zoos, star in funny YouTube videos and are farmed for both meat and dairy. Dairy goats provide products like milk, cheese – and even ice cream. The idea of goat's milk ice cream may seem ridiculous to some, but what started off as an "udderly" ridiculous idea has turned into a successful food business.
Udderly Ridiculous is a gourmet goat milk ice cream company owned and operated by OAC '92A alumnus Greg Haskett and his wife, Cheryl. They pride themselves on their fine ingredients and unique flavours, including wine and dark chocolate, and vanilla bean lavender.
Greg and Cheryl are also dairy goat farmers.
The ice cream business was their way of adding value to their farm product and creating opportunity.
"We thought because goat cheese was gaining popularity, it seemed ice cream was the next natural leap," says Greg. "Udderly Ridiculous operates as a stand-alone business. The motivation behind it was to support the Ontario dairy goat industry; we wanted to help build the demand."
Like many great business ventures, the concept of Udderly Ridiculous was created in the Haskett's kitchen. Over Christmas 2017, Cheryl, whom Greg describes as an absolute foodie, began to experiment with the idea of goat milk ice cream.
Jumping headfirst into the food industry while working full-time proved to have its challenges. Realizing that they needed help, Greg and Cheryl applied to the Hub Incubator Program run by U of G's John F. Wood Centre for Business and Student Enterprise. The Hub offers funding, office and meeting space, networking opportunities, and mentorship from expert entrepreneurs for new businesses run by U of G alumni and students.
The couple went into the program to learn more about how to manage their business and successfully enter the food industry.
"In fairness, we were hoping it'd be a bad idea, but we got so much positive feedback out of it, so we had no choice, but to keep moving forward," Greg says.
In March 2019, they launched Udderly Ridiculous. The business proved to be a perfect partnership for Greg and Cheryl, supported by their combined years of experience and shared passion for agriculture and food.
Owning two businesses, while also being a father of four keeps Greg busy, to say the least. But he has never been one to shy away from hard work or from a new challenge.
"I work five days a week on the goat farm, two days a week with Cheryl for Udderly Ridiculous – and on the eighth day, I rest," Greg jokes.
Over the years his dairy goat operation has adapted and evolved, with no lack of challenges.
He admits he fell victim to common misconceptions around the animals and the work required.
"It is very easy for people to view goat dairy farming as an extension of the cow dairy business, but goats are incredibly finicky and are very picky eaters," he explains. "People think they will eat anything, but it's just not true."
It takes about 10 goats to produce as much milk as one cow. This translates to 10 times more labour, which Greg says many people don't grasp until they are in the business.
He says the hard work is worth it.
"Every time we are talking to a consumer, we receive great feedback," he says. "People love the ice cream and we've created an opportunity for people with lactose sensitivities to eat dairy ice cream – this is very rewarding for us."
What does Greg say to those who haven't tried goat milk ice cream? "Our biggest selling feature is a spoon in the mouth. Typically, as soon as people try it, they're hooked."
This article was originally published in the LIBRANNI 2021 / Vol. 3
---
To try it yourself, visit udderlyridiculous.ca/where-to-buy. You can also follow Udderly Ridiculous on Instagram or Facebook.
Read more:

 

Read more:
Share this page
News Topics