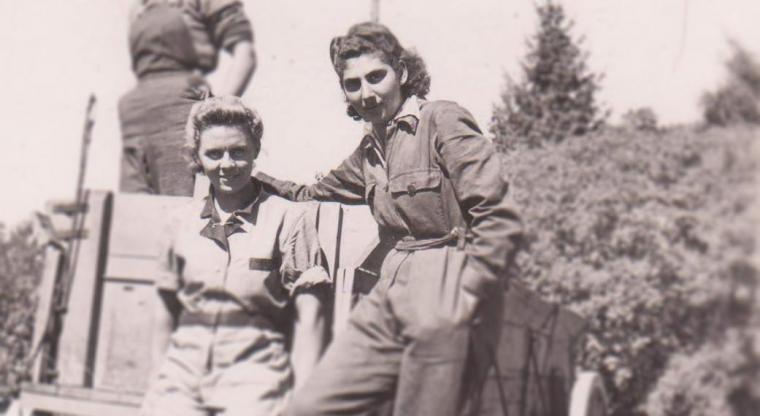 Rosalind Morris and Erika Gaertner graduated from OAC at a time when women rarely pursued agricultural education. But, these talented women went on to lead impactful and prolific careers in botany, all while maintaining a lifelong friendship. Here are just a few brief highlights from their careers.
---
1925
Rosalind moves from Wales with her family to a fruit farm in Lambton County, Ont.
1938
Rosalind graduates from high school with the highest marks in the county and enrolls in horticulture at OAC with hopes of becoming a fruit-tree breeder
1939
Erika moves to Canada with her parents from what is now known as the Czech Republic.
1940
Inspired by her childhood "floral encounters", Erika begins a Bachelor of Science in Agriculture at OAC focused on botany.
1941
Rosalind and Erika meet while working on the Vineland Experimental Farm as students, learning research techniques, and living in "Spinster House."
1942
Rosalind obtains her BSA from OAC and is accepted into the plant breeding graduate program at Cornell University. Here she first sees chromosomes under a microscope, an experience that changes her career path.
1944
Erika obtains her BSA from OAC and is also accepted into graduate studies at Cornell University, continuing her pioneering studies of the parasitic plant Cuscuta (dodders).
1947
Rosalind becomes one of the first two women to receive a Ph.D. from Cornell's Department of Plant Breeding. She accepts a faculty position at the University of Nebraska–Lincoln (UNL) becoming the first woman faculty member hired by the agronomy department.
1948
Rosalind begins experiments to test the effects of X-rays and thermal neutrons on crop plants; these studies grew out of concern over the effects of atomic bombs during World War II.
1949
Rosalind takes a year of absence to study at the California Institute of Technology to further enhance her technical skills. Her technical skills were rare at the time, and a major focus of her role at UNL was teaching these specialized microscope techniques to graduate students.
Following her graduation and successful completion of her PhD, Erika works at the Geneva Seed Lab in New York. Her research provides insights into germination and dormancy of dodder seeds distinguishing among several species of Cuscuta by using seed coat anatomy.
1950
Erika returns to Canada to lecture at McMaster University's Department of Botany; she travels to Churchill, Man. for muskeg research for the Defence Research Board and to Sweden for the 9th Botanical Congress.
1953
Erika moves to the Petawawa Forest Experiment Station after marrying Don Fraser. She
retains her professional identity as Dr. E.E. Gaertner and her research shifts to "harvest without planting".
1956
Rosalind receives a prestigious Guggenheim Fellowship and travels to Sweden and England to continue irradiation studies.
1957
Rosalind returns to UNL and joins the wheat team as a cytogeneticist. Until her retirement, she and her team develop unique sets of cytogenetic lines in wheat. Each line differs by only one chromosome pair which allows scientists to locate genes for numerous important traits. Seeds of these lines were sent all over the world for use in research.
1966
As one of the few invited female presenters – if not the only one at the World Forestry Congress in Madrid – Erika's presentation on "Use of Radioisotopes in Forestry Research" draws a crowd, including photographers keen to snap a rare woman scientist.
1967
Erika publishes her first book. Harvest without Planting: Eating and Nibbling off the Land is published as a Canadian Centennial project in 1967.
1970
Erika and her family move to Montreal where she teaches at Concordia University and continues work as a freelance lecturer and researcher. Along with her husband, she studies the flora of the James Bay region.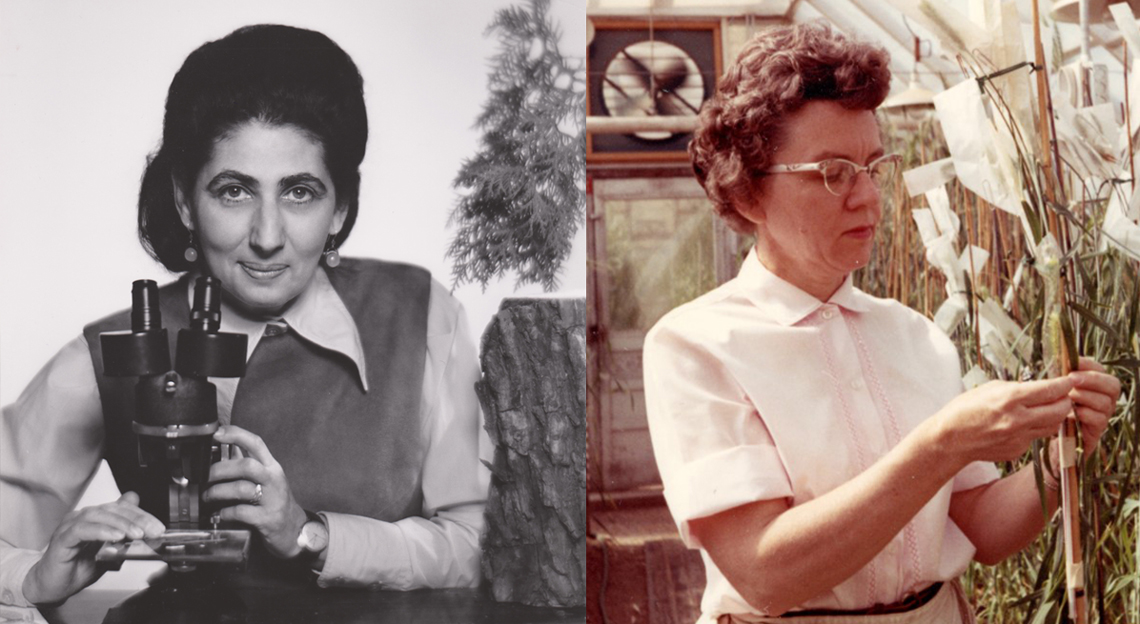 1979
Rosalind is the first woman honored as an American Society of Agronomy Fellow in 1979. In 1985, she is named a Fellow of the Crop Science Society of America.
1990
Rosalind retires from UNL. In retirement, Rosalind continues to foster her interests in travel, nature, environment and recycling.
1995
Erika publishes her second book, Reap without Sowing: Wild Food from Nature's Cornucopia.
1997
Rosalind establishes a U of G scholarship, the W. Penri Morris Memorial Scholarship in memory of her brother who was killed in World War II.
1999
Erika and her husband move to Ottawa due to his health, where she has stayed since. Erika and Rosalind keep in touch through cards and telephone chats.
2013
Erika establishes a U of G scholarship, the Dr. Erika Gaertner Scholarship in Botany, awarded to three undergraduate students annually to encourage young scientists passionate about botany.
2020
Erika publishes her third book, an autobiography. Written in collaboration with her son Steven Fraser, From the Heart of Europe to the Wonders of Canada documents Erika's education, research, family, and lifetime of exploration – including her recent 2019 trip to France. Her autobiography is available in print and digital format via Burnstown Publishing House [1] and Amazon [2]/Kobo [3].
Rosalind celebrates her 100th birthday. Despite her retirement being 30 years ago, Rosalind's wheat cytogenetics research continues to provide a premier resource base for researchers studying functional genomics.
This timeline was originally published in the LIBRANNI 2021 / Vol. 3 [4]
| | |
| --- | --- |
| | Read more: |
| | Read more: |