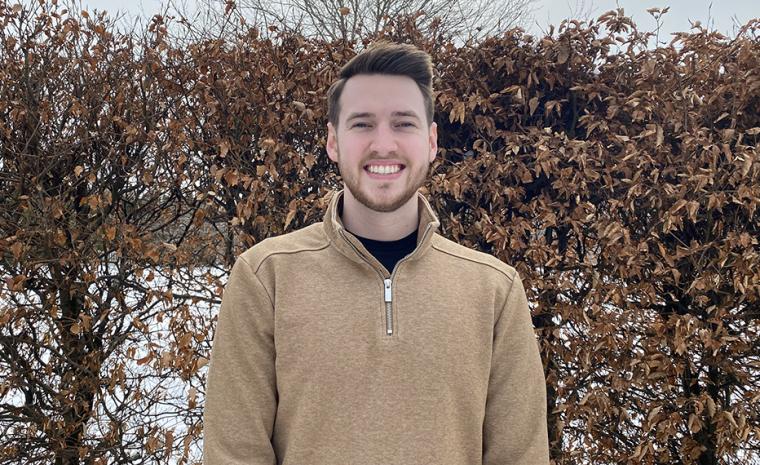 About Brock Levac
Brock Levac is a master's student in the Department of Food Science. His research focuses on the synthesis of betalains released during the spoilage of fresh food. Brock's passion for food science began while working at a distillery during his undergrad. In his spare time, he enjoys an active lifestyle and can be found at the gym, running or participating in yoga class. 
Program: M.Sc. Food Science [1]
Hometown: LaSalle, Ontario
---
What did you study for your undergraduate degree? 
Chemistry.
Why did you decide to pursue graduate studies at the University of Guelph? Did your undergrad experience shape your decision to further your studies?
During my third year of undergrad, I was hired for an internship as a student technical analyst at the Hiram Walker Distillery in Windsor. I was introduced to the field of food science through this experience. This led me to me pursuing an undergraduate thesis project where I looked to develop electrochemical sensing techniques for the detection of a certain carcinogenic molecule in post-distillate whiskey samples.
Upon experiencing research as an undergraduate student, I decided to further my studies. I specifically pursued research at the University of Guelph because the program has more to offer than any other food science program. Moreover, I deeply admire the research conducted by my supervisor, Dr. Loong-Tak Lim [2]. 
What is your research focus? 
My research focuses on the synthesis of betalains for the colorimetric and fluorometric detection of various volatile amines released during the spoilage of fresh food.
How have you found ways to get involved as a grad student? 
I have found ways to get involved through my teaching assistant (TA) positions and various intramural activities on campus. 
How has your graduate program experience been different from your undergrad experience? 
The biggest difference for me is the amount of independence that I am allotted. In undergrad, there is a great deal of active guidance; students are given ample direction for success. Inversely, as a master's student, I have the freedom to control my own education and pursue what interests me while being fully supported from my supervisor and my colleagues.
Where are your favourite spots in Guelph?
La Reina [3] is my favorite restaurant. I also really enjoy the Arboretum [4].
What do you find most challenging/ most rewarding about your program/research focus?
The most challenging part was adjusting to the demands required for graduate level success. . There is a higher level of commitment required at the graduate level when compared to the undergraduate level. The most rewarding aspect of the program is undoubtedly positive results in the lab. Several hours of lab work are conducted daily without gleaning any meaningful data; this is all a part of the process. When those positive results come, then, it makes all of the time spent in the lab worthwhile.
What are some free-time activities that make you happy, or relieves stress?
I spend most of my free time being active. I go to the gym first thing in the morning, spend some evenings going for a run, and occasionally participate in yoga classes. When I'm looking to simply relax, I watch sports.
What are your plans or goals after graduation?
After graduation, I will look to join the food science industry. Ideally, I can pursue a career as an analytical chemist.
What advice would you give to an undergrad student considering graduate school?
My advice to undergraduate students considering graduate school would be to make sure that you enjoy what you are studying. Work is plentiful in graduate school; the experience can be incredibly demanding. Make sure that you are passionate about your field of study because it can be difficult to fully apply yourself if you are not. Passion goes hand-in-hand with a fulfilling graduate school experience.
What or who is your greatest inspiration? Why?
David Goggins is my greatest inspiration. His story is completely unique and the messages that he preaches have greatly impacted me. He has shown to the world that you can make anything of yourself if you truly want to. He is the reason that I started pushing myself physically in something challenging: running. He is the reason that I signed up for my first marathon this upcoming fall.
What's one fun fact about yourself?
During my childhood, I broke my right arm 3 separate times. I became fairly close with some hospital staff!