Important Changes to Auto-Save in Office 365
Microsoft has announced important changes to the AutoSave functionality in Office 365, and we wanted to share this news as it may affect how you interact with documents. Any document synced to your OneDrive account that you open in Word, PowerPoint or Excel will now save automatically every few seconds rather than when you manually save the document. This is consistent with the behaviour of the online versions of Office products and is designed to help ensure that the files backed up to OneDrive are as up-to-date as they can possibly be.
That said, this does present some potential challenges for users who are not used to AutoSave working in this way. If you want to disable AutoSave while editing a document, you can easily do so by clicking this toggle switch in all Office 365 products: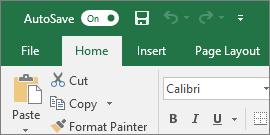 Microsoft has created a page detailing what you should know about AutoSave to explain a bit more about potential scenarios in which AutoSave could be problematic. In addition, here are a few quick things to think about when editing a document synced in OneDrive:
If you are editing a template, make sure you save a copy of the template before you begin editing, otherwise you will overwrite your changes to the template file.
When performing hypothetical or 'what-if' changes to an Excel file, turn off AutoSave first, otherwise your hypothetical changes will become real changes.
When working with 'dashboard' files that aggregate data, any changes you make to the view of the file will be saved.
A reminder again to check out this Microsoft page on what you should know about AutoSave as it can help you learn more about this new functionality. Be sure to contact the CCS Help Center at ITHelp@uoguelph.ca or 519-824-4120 Ext. 58888 for more information!