New Microsoft Teams Features: Meeting Options
Teams has recently added some exciting new Meeting Options that can be used to give the meeting organizer even more control of attendee interactions. To access these features, open an already-booked Teams meeting in your calendar and click on the "Meeting options" link as shown here:

This will bring up a series of options you can configure for your meeting, which will look like this: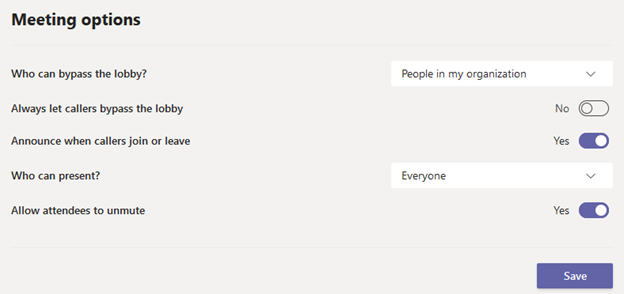 There are several important features here, so let's discuss them in order!
Who can bypass the lobby?
This setting allows meeting organizers to limit who can join the meeting automatically and who must be approved to enter the meeting. By default it's set to "People in my organization" but this can be changed to other options, including "Only me," which will require all attendees to be approved by the meeting organizer before they can enter the meeting.
If you want to lock down the meeting such that attendees can only join after they have been allowed in, or you are setting up a meeting in which some attendees should be admitted before others to talk privately, this setting will be very helpful! One caveat though – if you have a 100+ person meeting and you set this option to "Only me," you will need to approve of each and every attendee as they can join. So this setting is best used for smaller meetings, or when security is a requirement.
Always let callers bypass the lobby/Announce when callers join or leave
If you have a Teams Audio Conferencing license assigned to your account, these features allow you to configure how people who call into your meeting from a telephone number are able to join. Allowing callers to bypass the lobby means you will not have to allow each person dialing in to join the meeting – they can simply join as any other attendee would. Turning off the announcement when callers join or leave is also helpful if you are having a large meeting, as these announcements can be very disruptive.
Who can present?
This is an all important setting that limits who can share their screen or share content in the meeting. Setting this to "Only me" or "Specific people" allows organizers to control exactly who is able to share content with the meeting audience, which can prevent disruption in large meeting environments, or in audiences that you may not trust to have this ability.
For faculty who wish to hold a lecture or seminar over Teams, this setting should be set to "Only me" or "Specific people" so that students are not able to take control over the meeting and share their screens. By default, if this setting is left to "Everyone," then anyone in the meeting can take over as presenter.
Allow attendees to unmute
Another powerful feature for meeting control, this setting allows organizers to keep attendee microphones muted unless the organizer choose to unmute them. For large meetings in which you want to allow interaction but still limit disruption, this setting is another must-have.
Creating a secure meeting
To create the most secure meeting in Teams, these are our recommended settings:
Who can bypass the lobby: Only me

Who can present: Only me OR specific people (if you wish to have multiple presenters)

Allow attendees to unmute: No
This will create a meeting environment in which each attendee must be allowed into the meeting (rather than joining whenever they please), limits who can present content to the audience to the organizer or specific people, and restricts attendees from being able to unmute themselves.
A Bonus Feature – Join Meetings Directly from your Calendar
Microsoft also added another feature to the Web and Desktop versions of Outlook: for meetings that are about to start or in progress, you will now see a Join button right from your calendar view:

Clicking the Join button will bring you directly into the meeting, meaning you no longer have to open the meeting in your calendar to find the Join Teams Meeting link. This only applies to the next (or current) meeting in your calendar, so if you wish to join a meeting earlier than the start time you will still need to open the meeting details to find the join link.
Microsoft Teams is constantly updating with new features and we are looking forward to telling you all about them. Stay tuned for more news coming soon!