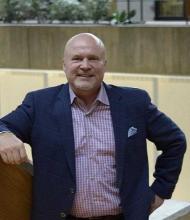 Dave Whittle has been named the new associate vice-president (AVP) and chief information officer (CIO) at the University of Guelph. Whittle will oversee and is accountable for information technology (IT) across campus, with a keen focus on innovation, efficiency, service culture, and student success.

The announcement was made on Wednesday, August 8, 2018 by Charlotte Yates, provost and vice-president (academic), who chaired the search committee.

Previous to his role as AVP/CIO, Whittle was the Associate Director, IT Operations & Infrastructure, with Computing & Communications Services at U of G. Prior to joining U of G, Dave was the Principal Architect at Blackberry where he led the global execution of strategic security initiatives, building their robust security roadmap and defining their security initiatives and vision.

"This was an extensive search and a deliberative process," Yates said, adding that the committee was impressed with Whittle's knowledge, experience, technical skills and leadership abilities.

To read the official announcement visit https://news.uoguelph.ca/2018/08/u-g-appoints-new-cio/ [1]
To find out more about the Office of the CIO and Whittle's vision, please visit https://www.uoguelph.ca/cio/ [2]