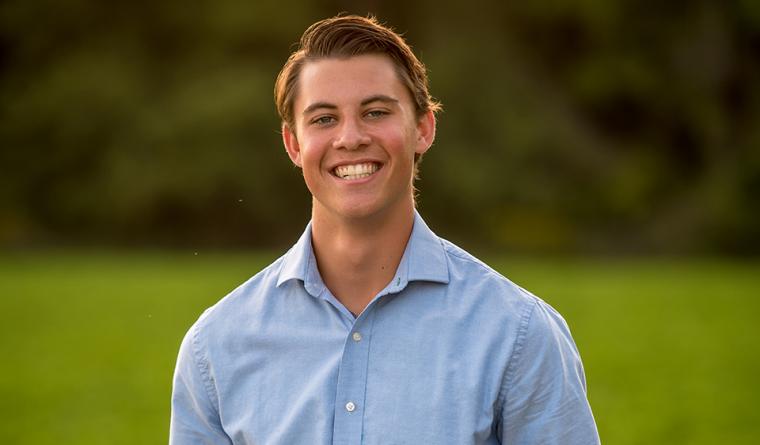 About Tim Shuh 
Tim is a third year co-op student in the Bachelor of Commerce, Food and Agriculture Business [1] program. Commuting from home since first year made it challenging at first for Tim to meet new people and get involved on campus. But through extracurricular activities and the co-op program, Tim has been able to broaden his learning opportunities, while also making great friends.
Program: Bachelor of Commerce - Food and Agricultural Business [2]
Year of study: Third year
Hometown: Elmira, Ontario
---
Why did you decide to come to the University of Guelph?
When deciding on a post-secondary program I knew I wanted a program that combined my passion for business as well as international development, and specifically international agriculture. The Food and Agriculture Business (FAB) [1] program at the University of Guelph seemed like the perfect fit for these two interests. I also enjoyed the idea of smaller class sizes within the Department of Food, Agricultural and Resource Economics (FARE) [3] and FAB major. Also, when I visited the school for a tour, I instantly loved the campus and the feel of the school.
When choosing my program I also valued the co-op option as I wanted to gain work experience during my undergrad, as well as make some money. My first co-op term was with Kenna [4], a marketing agency with BASF as their primary client. I learned a lot from my experience at the firm and gained a lot of skills that can't be learned in a classroom. Co-op is a great opportunity that shows students what they can expect from a job in the industry and a fantastic resume builder. Working throughout your undergrad also splits up the academic portion of your degree nicely and provides countless networking opportunities.
What do you like best about your program?
I really enjoy the passion of the FARE professors and their willingness to ensure that students understand material and can connect to it in a way that is both relevant and interesting. Most of the FARE Profs that have taught me, know me by name, something that not a lot of other professors try to do.
Another great thing about my program and the FARE department is the opportunities they provide. In my third year I chose to join the Canadian Agri-Marketing Association (CAMA) [5] student chapter team. Our team of 15 University of Guelph students worked extremely hard all year to create a product and marketing plan that presented a benefit for an agricultural producer. Our dedication and effort paid off as we won second place out of 29 schools from across North America at the National Agri-Marketing Association (NAMA) competition in Kansas City. This club was an unforgettable experience that led to great friendships and learning opportunities about both agriculture and marketing.  
Do you have a favourite class or professor?
My favourite class would be FARE 2410, Agrifood Markets and Policy [6] with Prof. John Cranfield [7]. It is an introductory course on agricultural markets and policy, something that grabbed my interest right away. I have been able to connect with John since through the University of Guelph CAMA student chapter team where he is the faculty advisor. I am also assisting him in his research on cheese imports this summer.
What residence did you live in during first year?
I commuted from home! Commuting to school definitely makes meeting other students harder, but through experiences like CAMA and co-op, I was able to make some great friendships. I regret not getting involved earlier on in my degree, as clubs and events make it easy to meet people. I would suggest to anyone who is commuting to get involved as quickly as you can. You won't regret it! 
How are you keeping busy this summer?
This summer I am helping Prof. John Cranfield at the university with his research on cheese imports. We will be looking at the impact that the Canada-European Union (EU) Comprehensive Economic and Trade Agreement has on the types and quantities of cheese imported to Canada from Europe. In addition, I hope to spend some time helping on my family farm, either pruning trees in our apple orchard or helping on the cash crop operation. 
Where is your favourite spot to hang out on campus?
The FARE lounge is a cozy spot on the third floor of the JD MacLachlan Building right next to Johnston green. It's a good study spot, and if you need help all of the FARE professors are right there! The CAMA team met here quite often before meetings as a spot to connect and share ideas. Professors and other FARE students are always coming in and out of the lounge, making it a great place to meet people and faculty in the department!
Do you have favourite spots in Guelph?
A stroll through the Arboretum [8] is always a good time! Or rock climbing at the Guelph Grotto will leave your forearms burning.
What are your post-graduate plans or goals?
I hope to work in international agriculture, helping small-scale farmers in the developing world. In addition, I hope to take over our family apple orchard and develop a cidery and customer experience. While I want to take over the orchard, I also want to incorporate a lot of my business skills learned during my degree as well as my entrepreneurial spirit to try new business ventures. I think the orchard is a great location for a customer experience type of business. With consumers no longer looking for products as much as they are looking for experiences and something they can feel connected to, I want to take advantage of this opportunity and avoid selling all of the apples as merely a commodity. I think a business that makes its own cider from the apples on the orchard, along with other apple and pastry products, and a walk through option of the orchard could prove to be successful!
Knowing what you know now, what piece of advice would you give to your high school self?
Do things right the first time. It's not worth being lazy and half completing something. Do everything to the best of your ability, and get involved as much as possible!
What's one fun fact about yourself?
I can't extend my arms and I've had three surgeries on my elbows to help fix them!