Clubs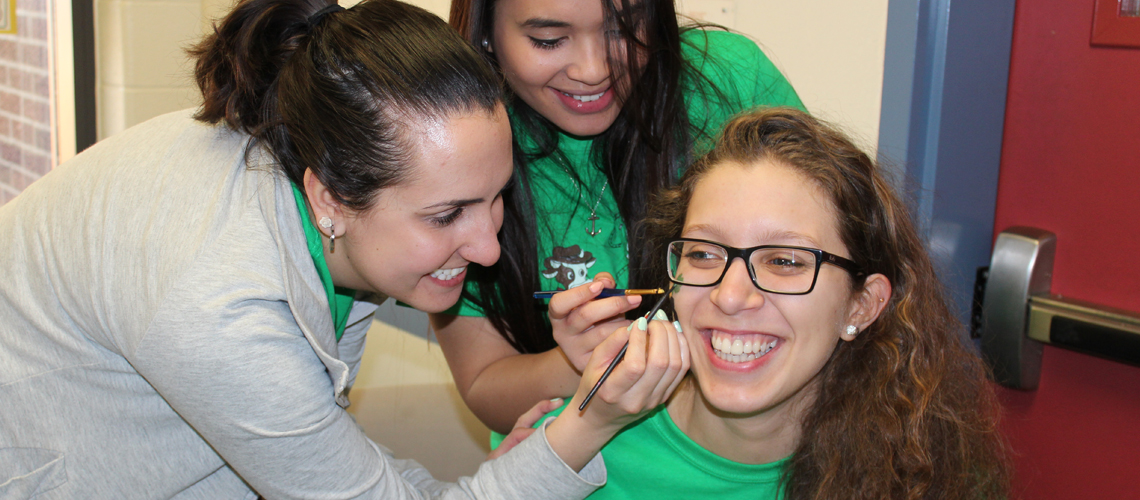 Student Associations
Student Federation of OAC (SFOAC)
Many OAC students take an active part in university life at OAC through student councils and at the Guelph campus through the Student Federation of the OAC (SFOAC). The organization organizes student activities and event while promoting OAC and class spirit. Email the SFOAC.
Bachelor of Bio-Resource Managment Student Council
The Bachelor of Bio-Resource Management (BBRM) Student Council is the official student organization for the degree program, with the goal to provide an enriched community experience for students in BBRM. The council is comprised of students in the Environmental Management, Equine Management and Food Industry Management majors allowing for open dialogue on a variety of program related and community oriented extracurricular topics from all major specific perspectives. The council organizes a variety of events, BBRM merchandise, student support and resources, as well as other initiatives to enhance the experience of BBRM students at the University of Guelph. All BBRM students are welcome to join the council and attend any council organized events. Email the Bachelor of Bio-Resource Managment Student Council to find out more here.
Environmental Sciences Student Executive
The Environmental Sciences Student Executive (ESSE) provides social and extracurricular learning activities that promote pride and a sense of community in the program as well as acting on behalf of the BSc(Env) students on committees within the University and the local community. Environmental Sciences students host a public symposium each year that features world-renowned speakers and a series of workshops on topics that incorporate the natural, physical and social sciences. Check out the ESSE website.
LASS - Landscape Architecture Student Society
Landscape Architecture at the University of Guelph is an internationally recognized program that is a proud part of OAC's School of Environmental Design and Rural Development. LASS works with fellow students and faculty to coordinate both educational and social events and activities. LASS is made up of a council with representatives from each class of both the undergraduate and graduate programs so that all issues are communicated to the entire student body. In addition to class representatives, there is a full executive plus various committee members. More information on LASS.
Student Clubs
Animal Biology Student Association (ABSA)
The Animal Biology Student Association (ABSA) was formed to plan fun and exciting activities for Animal Biology students throughout the academic year. . Events provide students with the opportunity to learn about the different careers available and explore different areas in the industry. The general meeting is held every year in the first few weeks of classes. Everyone is welcome to attend the meeting, and all events hosted by ABSA. Find more information on the ABSA Facebook Page.
University of Guelph Animal Interest Network (UGAIN)
The University of Guelph Animal Interest Network (UGAIN) is a club for students of any discipline who are passionate about furthering their knowledge about animals and the animal industry. UGAIN holds weekly discussions where current topics in the animal industry are presented and discussed by the members. UGAIN also organizes a variety of events for its members. In the past, members have gone on a tour of the Royal Canin Plant, visited a goat farm and toured the Honey Bee Research Centre. For more information email uog.gain@gmail.com
Animal Science Society
The Animal Science Society is a group of students who share one thing: a love and devotion to animals. You don't have to be an Animal Biology or Animal Science major to join; everyone is welcome! In the past the Animal Science Society has hosted a behind the scenes trip to the Toronto Zoo, Career Night, and trips to the Donkey Sanctuary. The Animal Science Society also holds BBQ's, a children's display area, tours of the research labs of the Animal and Poultry Science Department and "Rumen with a View" where a fistulated cow is exhibited during College Royal! The society meets once a week, sometimes more during busy times of the year, and is always welcoming new members and volunteers. Learn more at the Animal Science Society Facebook page or email the club at anscisoc@uoguelph.ca.
OAC Beef Science Club
Do you think there's nothing better than a steak grilling on the BBQ? Then come on out to the Beef Science club and meet with students who are passionate about getting that steak from the farm to your fork. The OAC Beef Science club meets monthly, with guest speakers at each meeting discussing their operations and businesses. The Beef Club also holds bus tours to some of the provinces top producers. If you want to learn more about what goes into making that steak before it reaches your plate, come on out to our meetings.
CAMA Student Chapter
The University of Guelph Canadian Agri- Marketing Association (CAMA) Student Chapter is a great opportunity for students to gain practical experience in agricultural marketing and for professional development including networking with industry professionals. A team of 10 students is selected in September and work together for the year to create a marketing plan for an innovative agricultural product or service. They then compete and present at the annual NAMA Conference in April in the United States against 30 other schools in North America. This club really focuses on using the practices and principles used in today's marketplace and to develop the skills of leadership and professionalism. If you're interested in applying, stay tuned to the SFOAC weekly update in September to fill out your application. This opportunity will really be a highlight of your University career. For more information about CAMA professional organization, visit www.cama.org or email the CAMA Student chapter.
College Royal Society™
Want to be part of one of the University's annual traditions since 1925? Become a member of the College Royal Society. College Royal is a 12-day long event held in March that includes popular events like the Fashion Show, Super Thursday, livestock shows, logging competitions, square dancing and much, much more. The College Royal Society is a 100% student run and organized event, consisting of a 90+ executive team. It's also a great way to meet new people and have some fun at the same time! Check out the College Royal Society website.
Dairy Science Club
Are you are involved with or interested in the dairy industry? Then the Dairy Science Club is for you! The interests of the club include genetics, technology, management, nutrition, research and more. The Club plans to have four multi-farm tours each year including an annual trip to Quebec. There are also approximately eight on-farm or on-campus meetings throughout the year. Contact the Dairy Science Club at dairy@uoguelph.ca for more information.
Equestrian Club
The University of Guelph Equestrian Club is a non-profit, student-operated club that was formed by a small student group of horse enthusiasts in the 2002-2003 school year. The club provides a base for students to get together to talk and learn about horses, ride in lessons of various disciplines, compete at different levels of horse shows, and participate in fun club activities. Students of all skill levels are welcome! Learn more about the Guelph Equestrian Club here.
Food Science Club
The Food Science club is proud to expose the field to food science to the University of Guelph student body and greater community. Club members enhance their knowledge of the food industry in trips to local businesses. They also share their own expertise on social club activities and intramural teams. You can see what this exciting area of study is about at our annual College Royal™ exhibit featuring food sensory booths and legendary milkshakes. For more info contact: loritta@uoguelph.ca
Future Vets Club
For anyone looking to apply to veterinary college, the Future Vets Club is a great place to start. The club provides support to students looking to attend veterinary college both in Canada and abroad by providing information through various seminars and events. Presentations from professionals and behind the scenes tours provide members with a first-hand look into the veterinary profession and other careers in veterinary medicine. For more information email fvc@uoguelph.ca or visit the Future Vets Club website.
Horticulture Club
The Horticulture Club is made up of students who share an interest in plants. While the focus is generally on floriculture, there is plenty of room for those interested in fruits, vegetables and cash crops. Meetings are held every other week on Wednesday evenings with other events throughout the school year. Annual events are the Greenhouse Conference and the Plant Sale at College Royal. Membership also includes production agriculture farmers, hobby gardeners and landscape architects. If you'd like more information, contact the Horticulture club at hortclub@uoguelph.ca
Judging Club
The Ontario Agriculture College Judging club is a group of students who meet biweekly to enhance their judging skills in various areas. The club focuses judging on three main categories; livestock, crops and homecrafts. Covering a large spectrum of areas within those categories, judging includes standard classes such as dairy, beef, and grains and also uncommon classes such as llamas, pigeons and even manure based on its nutrient value. The club meets as a group in Guelph and the surrounding area, but we also travels to Quebec twice a year to compete in judging competitions with teams from Quebec, Alberta, and Nova Scotia. Members of the club have a passion for judging and believe it significantly improves confidence, rational thinking and public speaking skills. If you're looking for more information, contact the Judging club at oacjudging@aggies.ca
Outdoors Club
The Outdoors Club, established in 1976, is one of the universities oldest student run clubs. The Outdoors Club organizes outdoor wilderness trips for its members of all experience levels. A general member's meeting is held each semester to discuss which trips will be held. Trips with the Outdoors Club range from camping in Algonquin park to a dog-sledding day trips. The Outdoors Club travels throughout Ontario and into the States. To get involved with the Outdoors Club email uofg.outdoorsclub@gmail.com.
Poultry Club
The University of Guelph Poultry Club is nothing but a clucking good time! The club is responsible for maintaining and caring for Dr. Shaver's heritage laying hens throughout the year at the Arkell research station. The club also tours facilities representing all aspects of poultry production in Ontario. The club plans on touring turkey, broiler and laying hen facilities in Ontario as well as processors and hatcheries. For more information regarding meetings and tours please email poultry@aggies.caor read the SF Update.
OAC Soil and Crop Club
The OAC Soil and Crop Club is a recently formed club that is designed to bring together everyone with a passion for the cropping aspects of agriculture. Guest speakers from a wide range of areas of expertise are planned for this upcoming year. Join the OAC Soil and Crop Club Facebook group or email oacsoilcrop@aggies.ca to stay connected.
The Straw Hat: Journal of Food and Agriculture
The Straw Hat: Journal of Food and Agriculture is an on-campus student run paper. The Straw Hat is dedicated to informing consumers about the agri-food industry through written and photo essay articles. Topics covered in the paper have included the local food movement, production of craft beer as well as restaurant reviews. If you are interested in working with the Straw Hat email agribus@uoguelph.ca.
Swine Science Club
Anyone within the University of Guelph that wants to further their knowledge and hands on experience within the swine industry is more than welcome to join the OAC Swine club. The club comprises of members with all degrees including masters students, veterinary students and those at the undergraduate level. Additionally member of the Swine club vary from those with a farming background to those with no agriculture experience at all. The Swine club creates opportunities for hands-on experiences and industry interaction through conferences, tours and speakers. Past experiences include learning about current research, touring a processing plant and learning about new production techniques. The Swine Club is always looking for new ideas from members.
Turf Club
You'll soon realize that you and your peers will become a very tight-knit group. Be sure to take part in the turfie activities such as weekly turf club with guest speakers, the annual sodding of the cannon and the alumni golf tournament. Contact the Turf Club at turf@aggies.ca for more information.
University of Guelph Junior Farmers
The University of Guelph Junior Farmers club is part of the provincial Junior Farmers Association of Ontario. The Junior Farmers' mission is: "Building Leaders, Building Communities." They aim to promote effective leadership skills and community development, improve agriculture awareness, explore individual talents, compete in sports and cultural activities, and travel.
Looking for something different? No problem! There are many campus student clubs and organizations available!