Written by:
By Josh Moran, OAC communications summer intern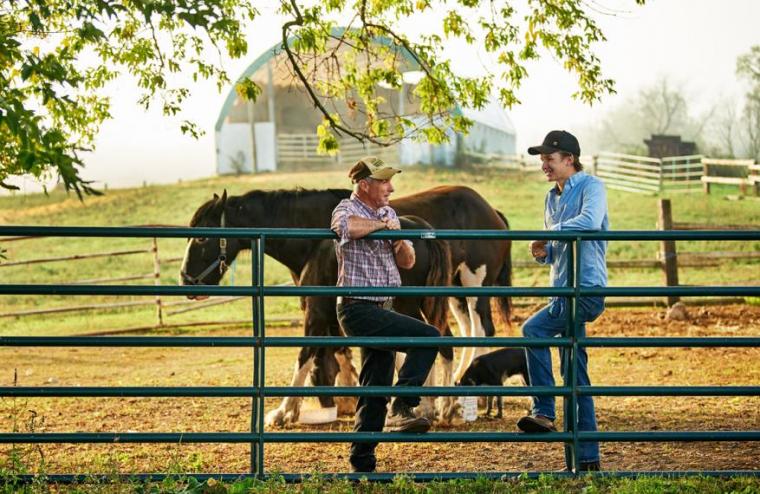 When I returned home to Eastern Ontario after completing my first year at U of G, I was so excited to share the stories of my experiences at Guelph. One day, I told a farmer about my friend Clayton McWilliams, whom I had met at Guelph. The farmer immediately asked if Clayton was related to Wyatt McWilliams. I didn't know. Wyatt was a new name to me. But it was clear that Wyatt was a well-known person in agriculture, and his story was one I wanted to hear.
So, I began asking questions. And the more I learned about Wyatt, the more I wanted to know.
He is a Kemptville College '79 grad, who has a passion for agriculture and working horses. I learned that Wyatt has a genetic disease that is slowly taking away his eyesight. Despite this hardship, Wyatt has given back in unimaginable ways.
I finally got the chance to meet Wyatt when I pitched writing this article as part of my summer internship with the OAC Dean's Office. I had a long list of questions.
When I'd finally got to ask Wyatt what drives him to give back, his answer was simple: "You reap what you sow."
Driving horses, driving change
When I arrived to interview Wyatt at his farm, it was a dewy summer morning. Wyatt was tending to one of his Clydesdales along the fence line by the road. He invited me to join him for coffee and we began walking back to his house. Despite a visual impairment, he has no problem navigating around his farm.
"I find my way around by the angle of the road and the coarseness of the gravel below my feet," he said. "But I have run into the mailboxa few times though," he added with a laugh.
Over morning coffee, Wyatt shared more with me about his visual impairment. Retinitis pigmentosa is a genetic disease that runs in Wyatt's family. The effects could be described as walking backwards through a tunnel over time; the more you step back, the smaller and blurrier the light at the end gets.
Years ago, Wyatt could run farm equipment, drive tractors, and his hitch of horses, but his vision has deteriorated. Now everything is a blur. Despite this, he has not slowed his pace.
I asked him about the farm and how he manages. His passion for farming was evident. He told me of his herd of beef cattle, his Clydesdales, and the small square bales of hay he sells.
I personally grimace at the thought of baling small squares of hay, thinking back to my time in the dusty hay mow stacking bales. It's hard work, but Wyatt has found a niche.
"Not a lot of people do small squares anymore, but that's the package racing horse guys like," he told me.
He sells his small square bales all over Ontario and even to the United States. His father, Willard McWilliams, helps Wyatt with the deliveries. 
Wyatt is above all else, grateful for the help of his family and friends, especially his father. As his eyesight has faded, he has relied on them more and more.
 "If it weren't for my family I'd be euchred," he said. "My dad's going to be 83, and he still does the majority of my tractor work. From the mower to the rake to the baler."
It seems to me that Wyatt gets his ambition from his father, as he pops up in most of Wyatt's stories.
Wyatt's father Willard first came up when I ask Wyatt about the 50 horse hitch. Willard and Wyatt achieved a record-setting 50-horse hitch together in 1995. They got the idea after Willard saw a postcard featuring a 40-horse hitch. "That put the idea in my mind. For the 50th anniversary of the Navan Fair, we could hitch 50 Clydesdales," said Wyatt.
It was a big job. The power of 50 Clydesdales walking in front of Wyatt, combined with the 50,000 people lining the streets, was a lot of pressure. But the feeling, Wyatt recounts, was a thrill of a lifetime. 
It was at this event that he first realized the power of a community coming together. "My dad always says, many hands make light work," he said, adding that the 50-horse hitch changed the way he thought about that phrase and what could be achieved when people come together. This realization, in addition to his vast array of connections made over the years, would soon incite major volunteerism efforts.
Hay West
As we drank our coffee on the pergola in the backyard, Wyatt went on to tell me the story behind "Hay West".
In mid-2002, Wyatt's father called him at 6 a.m., as he usually does to find out what work needed to be done that day. But the conversation turned to a news report Willard had just seen. There was a drought in Alberta and Saskatchewan, and the farmers there wouldn't have enough hay to feed their animals.
Meanwhile in Eastern Canada, Wyatt recalled, first cut hay was done and the barns were full. Second cut hay was looking fantastic and the surplus was staggering. Wyatt was in the position to help and help he did.
He met with members of Parliament and representatives of the Canadian National Railway Company to devise a plan to fill railcars with hay and ship it out west.
"CN agreed to give them 20 rail hay to fill 27," Wyatt said. "It was unreal. The phone just kept ringing. It was pretty heartwarming to see how a country can come together."
In all, 712 railway cars' worth and 161 transport loads of hay were sent to farms in the Prairies.
Part of Wyatt's success in recruiting so much help so quickly was the large network he created over the years through 4-H, Junior Farmers, Kemptville College, the Ontario Federation of Agriculture and other organizations. It was also in 4-H and Junior Farmers that he picked up two other mottos he lives by: "learn to do by doing" and "self help and community betterment".
Referring to his time as a student at Kemptville College, he said, "The education part of things was huge, but I still feel the people aspect, making those friendships, a group of people you remember for the rest of your life, was the most important part."
His network came calling when they heard he was looking for support. That's why Hay West was such a success.
"We're not the ones who deserve the credit," he said humbly. "It should go to all the people who helped us."
"We may have been the figureheads, but it wouldn't have happened if people weren't calling offering a wagon, to help load a railway car, to lend some equipment."
That humble mentality would continue as I asked Wyatt my next questions about his food bank advocacy and fundraising.
Food Aid Day
In 2005, the BSE crisis hit cattle farmers and Wyatt decided to act again. The US borders were closed to export, and grocery store beef prices were not reflecting the drop in prices happening at livestock auctions.
Using his contacts, Wyatt raised money to buy lower-priced cattle and donated the beef to the Ottawa Food Bank. As a result, Food Aid Day has occurred every year since.
Held at Ottawa's City Hall, the annual fundraiser barbecue brings together farmers, food bank users and supporters. The event continues to meet two goals that are important to Wyatt: raising money for the food bank and raising awareness of the importance of agriculture.
Food Aid has consistently raised over $100,000 each year and has donated just short of 1 million pounds of ground beef to the Ottawa Food Bank. It's made a real difference.
"A gentleman came in one day and got a few pounds of ground beef. As he left, he was literally doing a dance saying, 'I can make meatballs and spaghetti'," Wyatt recalled. "There's so much you can do with ground beef. We [beef farmers] take it for granted because it's in our freezer every day, but some people don't have that luxury."
When I asked what drove him to create Food Aid, Wyatt once again said, "You reap what you sow."
As I said goodbye to Wyatt and drove away from his farm, I found myself reflecting on the words Wyatt said, and the actions he's taken over the years.
He sees reward in people coming together, helping others and making an impact. And for Wyatt, "reap what you sow" is about doing the right thing for your community.
Before meeting Wyatt, I understood the saying, but it wasn't until my morning coffee with him that I truly understood the weight ofthose words.
To me, despite his visual impairment, Wyatt sees the world clearly. You get back what you put in. And what you "get back" is often in the form of knowing you really helped others.
And as I wrote this article, I kept thinking that if I can make just 1 percent of the impact Wyatt made in Canadian agriculture, then I will have been successful in my own journey.
This article was originally published in the LIBRANNI 2020 / Vol. 2 [1]
Read more:

 

Read more: