The pursuit of career happiness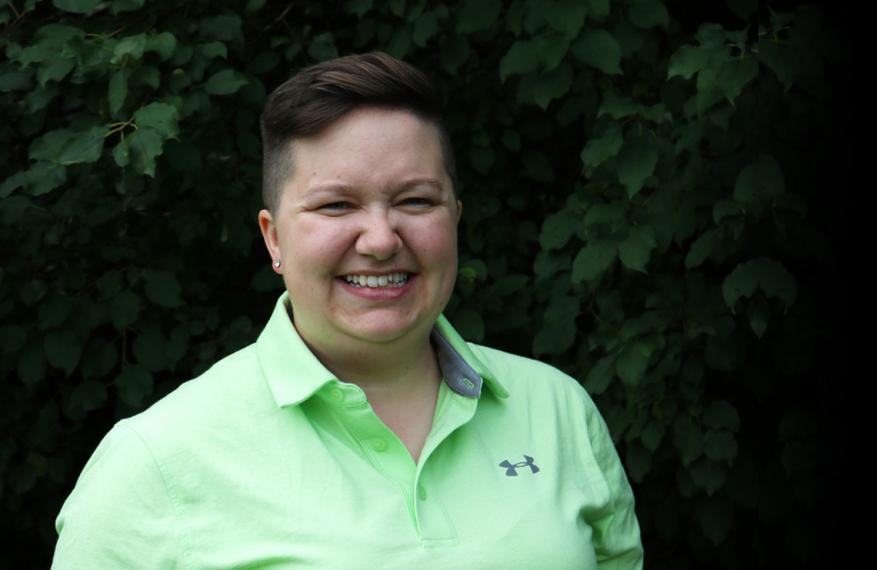 So what do you want to do after school?" It's a question that every university student is asked, and probably more times than they'd like.
For Ashley Knapton, B.Sc. (Agr.) '13, the answer was simple: become a dairy classifier.
Classifiers, an unbiased thirdparty group of trained people, score dairy cows based on industry-outlined criteria. They travel from farm to farm to evaluate the physical structure of the cow. It's a service that helps producers make informed decisions and is often used as a pride point for dairy breeders.
"A career driving around Canada and looking at cows was the dream," says Ashley.
Amazingly, just two years postgraduation, she found herself in her dream job. The catch? It wasn't the right fit.
"It was really tough. At the time, I straight-up felt like a failure."
For many people, it takes years, decades even, to work toward their dream job. Ashley had made it there but would now have to redirect her career and redefine her goals.
An interest in agriculture is what had brought Ashley to study at the University of Guelph. Growing up on a dairy farm, she always envisioned working a day job, with a cow career on the side. Nearing the end of high school, she realized her day job could be working with cattle.
Knowing the range of opportunities in agriculture, Ashley was picky when it came time to look for employment in the fourth year of her undergrad. She knew she wanted to be in the dairy industry and wanted to take the right steps to become a classifier.
She worked as a ruminant farm consultant before becoming a classifier at Holstein Canada. She stayed in the classifier position for just eight months before redirecting her focus.
"The content isn't everything in a job," says Ashley. "There are other things that are just as valuable, like a good work life balance, volunteering and being able to support my family farm."
With a new perspective and a better understanding of what would provide her happiness in her career, Ashley went back to the drawing board.
"My parents get a lot of credit," she says. "They did a really great job at supporting me. They helped guide me through that process when I didn't necessarily have a plan B."
"As much as it wasn't the right fit for me, I really learned a lot. I learned what I need and don't need from a job."
Ashley was determined to stay connected with the dairy industry but found jobs in other agricultural areas.
"Dairy was always where my passion had been, but this change in perspective made me look into other sides of the industry as well. If I was to stay in dairy, I needed to reframe what my involvement would look like: what my role could be."
Ashley worked at 4-H Ontario as the Poultry Sen$e coordinator while working a communications internship with Dairy Farmers of Canada.
Communications had always been a potential career path for her in her mind, and now seemed like the perfect opportunity to give it a try.
"Communications was something that interested me through my involvement in university," she explains. "So taking that internship was a good opportunity for me to get experience without all the qualifications a typical comms role would have."
After her internship, she began working as a coordinator for the Agricultural Adaptation Council.
Both roles helped her realize an important element of her career satisfaction requirements.
"They were really interesting jobs, but I wasn't cut out for office work. I prefer to be on my feet and on the farm as much as I can."
Today, Ashley works for Pioneer as a dairy specialist. She provides a livestock focus to the cropping business by supporting sales representatives who help livestock producers grow excellent feed for their animals.
It took a lot of soul-searching and résumé writing, but she has positioned herself into a career she enjoys and is excited about.
Reflecting on her experiences Ashley says she wouldn't change a thing, despite the non-traditional route she's taken.
"No one has been concerned about the number of jobs I've had. There is a story behind each one of them."
When asked now about her dream job, Ashley says that it probably doesn't exist yet.
"The industry changes so much and so fast and it makes new jobs all the time, but this new job is pretty bang-on for what I want to do."
---
Career Switch Tips
In hopes of helping others, Ashley provides a few tips for anyone looking for a career switch:
Think about your priorities and figure out what you need from a job. Ask yourself: Do I need fulfillment in this role? Do I need additional time and flexibility? What is the day-to-day focus of the job?
Develop a financial plan to help guide some of your decisions.
Stay optimistic. Even if you're looking to leave a role, reflect on what you gained from the experience.
Keep an open mind. A job might surprise you for what it can bring to the table.
This article was originally published in the LIBRANNI 2020 / Vol. 2
Read more:

 

Read more:
Share this page
News Topics