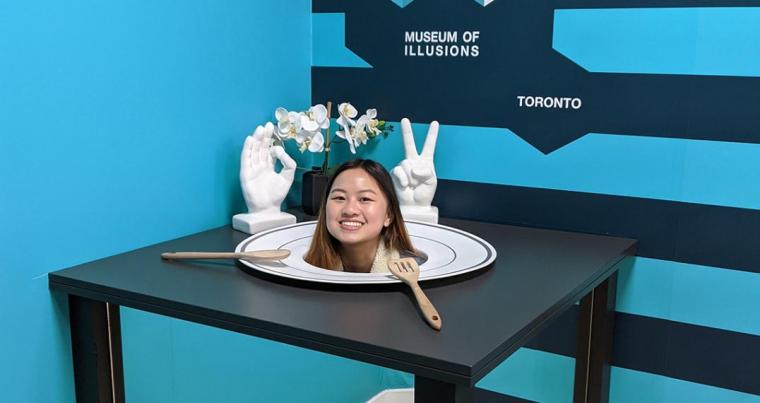 About Victoria Huynh
Having grown up in the bustling city of Toronto, Victoria enjoys the change of pace and scenery the city of Guelph provides her. She's enthusiastically involved in the campus community of U of G, having served as a Residence Assistant (RA), English Language Buddy, and member of the Food Science Club. As a full-time student and full-time foodie, she enjoys learning about all aspects of food science, as well as applying learned concepts to her real-life experiences. 
Program: Bachelor of Science - Food Science [1], minor in Neuroscience
Hometown/City: Toronto, Canada
Year of Study: 4th Year
---
Why did you decide to study at the University of Guelph?
Guelph is well-known for their food science program, so my decision wasn't that hard to make. But I also wanted a break from the loud, busy city life (I've lived in Toronto my whole life), so Guelph seemed like a good institution where I could study and create a new life at.
What do you like best about your program?
Everyone is so nice! Aside from making the best friends and connections with my professors, I love how everything that I'm learning can be appled in real life. Whether it is food chemistry or sensory evaluations, I can really see myself using the knowledge that I've gained in the future. Also, it's food related, so how can I not like it?
In what ways were/are you involved on campus? 
I've been on Residence Life for two years now and I hope to come back for my final year as a Residence Assistant (RA) again. I'm also involved in the Food Science Club [2], where I was the milkshake rep last year. This coming year I will also be the Food Science representative for Student Federation of the Ontario Agricultural College (SFOAC) [3]. While I was in first year, I was also an English Language Program buddy where I was paired with a student from Japan! 
Do you have a favourite class or professor? 
I think my favourite class has been Food Packaging with Dr. Lim [4] (who is so nice by the way!) and I can't say who my favourite professor is. But I will say that Dr. Duizer [5], who lectured Sensory Evaluations of Food, really made online classes enjoyable this past year.
What residence did you live in during first year? 
South Maritime! 
Where is your favourite spot to hang out on campus?
The Japanese Garden in the Arboretum [6]. There's a cute bench inside it and I love having deep convos with my friends there.
What is an unforgettable university experience you've had?
Going to Chatime at 8:30 p.m. with my two RA besties and then trying to film TikToks on Johnston Green until 11 p.m. 
Do you have favourite spots in Guelph?
Honestly, I haven't explored Guelph much, but anywhere in the downtown area is pretty cool!
What is a hobby that makes you happy, or relieves stress?
Working out really helps me relieve stress. Even when I'm tired after work, I find myself feeling more at ease after doing some workout videos on YouTube. I also really like watching Netflix with my family, currently we are re-watching Murdoch Mysteries and I think it's so cool that some of it was filmed in Guelph!
What are your plans or goals after graduation?
I hope to find a full-time job in product development but more specifically in the packaging field. As I've mentioned before, I really liked the Food Packaging course with Dr. Lim. I've also had some thoughts about going to teacher's college after working for a bit, but we will see!
Knowing what you know now, what piece of advice would you give to your high school self?
Just go for it! I've always been nervous or too shy to try new things, but I've realized that you miss so many opportunities if you let your doubts get the better of you.
What methods have you found to adjust to remote learning during the period of online class delivery? 
I loved using an actual paper calendar! When everything is virtual, I find that online calendars and planners aren't as effective as having something tangible in front of you.
What's one fun fact about yourself?
Some celebrities that I've met are: Carlos (from The Zone, if you know you know), Justin Trudeau and some of the Murdoch Mysteries cast – including Detective Murdoch himself!