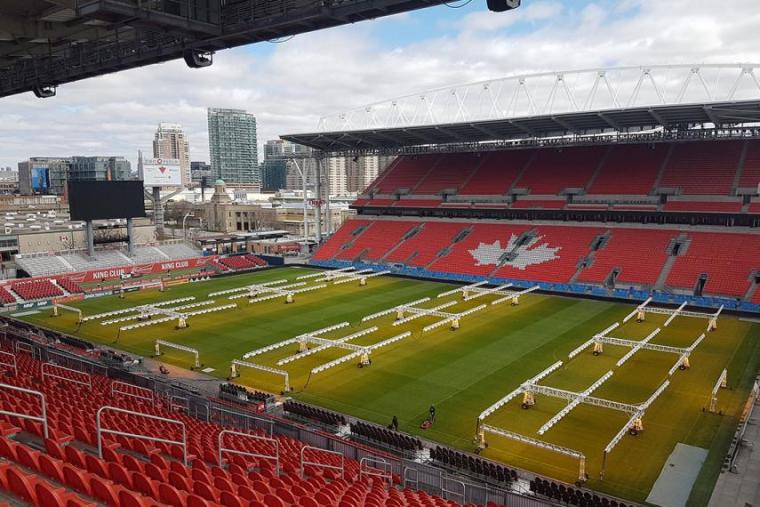 Featuring Robert Heggie, Dip. Hort. 2006, Dip. Turf. 2008
---
BMO Field features real turfgrass, but its management is no 'walk in the park.' The care of the outdoor Toronto sports stadium takes special skill and innovation.
Robert Heggie, director of grounds with Maple Leaf Sports & Entertainment, oversees the care of BMO Field – home to both the Toronto FC of Major League Soccer and the Canadian Football League's Toronto Argonauts.
"There are not many stadiums across the world that host two professional teams of these sports," says Robert, "because they don't lend well to each other for field conditions."
Both sports are tough on natural grass and the playing seasons can go as late as December. The turfgrass often rests for only two months, with seasons starting back up as early as February. Considering the harsh Canadian winters, it's a big ask to get the grass ready for play.
"We have a tough schedule for natural grass that comes with its challenges," says Robert. "I have yet to find a chapter in a turf book that tells you how to grow grass in February."
He and his staff may plan everything three or four months in advance, but they have no idea what the weather is going to do or how the field will overwinter.
"Whether it comes out of winter good or bad, the game still happens. We must do our best to get the field as good as possible as quickly as possible," says Robert.
He adjusts the team's maintenance approach, depending on the state of the field. This is more challenging when prepping the turf for the start of the season. He explains that they can't be as aggressive with their mowing, aeration or raking in the spring as they can in the summer.
They also adjust the type of grass seed they sow.
"We need germination to fill the canopy back up in spring, so bluegrass isn't always the most efficient," says Robert. "We will use rye grass or a combination of the two, whatever works best at that time."
Like a farmer, he says, he can do the same things twice, only to succeed one year and fail the next.
"We are next to Lake Ontario and our humidity is 80 or 90 per cent, so the disease pressure is high," says Robert, "especially in the spring when we are trying to get the grass to grow with the grow covers. They hold the heat and the moisture but also create an ideal environment for disease. We must balance the use of a lot of tools and hope for the best."
These are not the average lawn tools. He says BMO Field has some of the most sophisticated grass in North America. In recent years, more than $10 million has been invested into technology like heating systems, artificial grow lights and a subsurface aeration system to keep the turf healthy.
"I am lucky to be where I am and work with an ownership that is as ambitious to support innovation," says Robert.
In 2019, the field was converted to hybrid grass. About five per cent of the surface is artificial turf sown into the natural lawn grass. This reinforces the field and makes it more durable. Robert looked to the English Premier League for inspiration.
"They are kind of like the Cadillac of soccer. So we replicated what they did over there, because why change what works?"
Only a handful of North American stadiums have hybrid grass, but Robert says the hybrid field has been crucial for long seasons. It keeps the field together and safe for the players and allows for more events to take place. That will include the 2026 FIFA World Cup, to be co-hosted by BMO Field.
Among his many challenges, Robert says, fans on social media can be very critical of his team's efforts.
"Because everyone has grass in their yard, they think they are experts," he says. "It baffles us. How can someone be complaining about grass in February? It's green, it's alive: give us some credit."
Despite all the long days and nights, pressure and stress, Robert finds his work very rewarding.
"Once the game kicks off and we get through the hecticness of getting the field ready, it reminds me why I do what I do. If the team is happy, everyone is happy."
---
This article was originally published in the LIBRANNI 2023 / Vol. 5 [1]
Read more LIBRANNI articles: