Q&A with a Ridgetown Campus Alum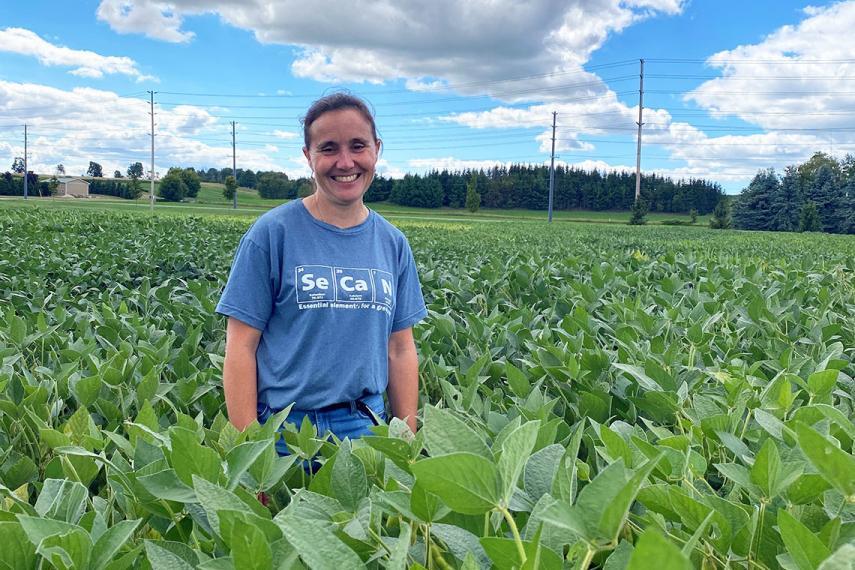 Shannon Bieman was president of the first graduating class of Ridgetown Campus in 1997. To celebrate the 25th anniversary of Ridgetown becoming a U of G campus, we thought it would be fun to catch up with Shannon, who graduated with an Associate Diploma in Agriculture and won the "Best All-Round Student Award" that year.
Tell us about your Ridgetown Campus experience.
The student's council president opportunity came up and I thought it would be fun. I paid attention to politics growing up and wanted to give back to the campus. It was a great student body that I was able to work with. At that time, Gary Ablett was the director, and Gary was fantastic to support students to make sure that things were happening, and that the campus was what it was supposed to be: fun and interactive and, at the same time, a great learning experience. That learning experience encompasses your education and your whole student life, and the friendships you build with the staff, faculty and students. I played quite a few sports while on campus, too. Soccer was a big thing at that time and the opportunity to go to OPAC and compete against the other ag colleges and Guelph was fantastic. 
How did Ridgetown Campus set up your career?
It was a great school with countless learning opportunities, a lot of exposure and plenty of hands-on learning. It opened the doors for an abundance of opportunities. I started at Thorndale Farm Supplies, and it was a great fit the first year out. I worked in fertilizer, chemical, agronomy and nutrition. That allowed me to figure out my career path in agriculture. I ended up being pursued by W.G. Thompson and Sons and started in the trading room in Blenheim for a year, then realized I preferred more face-to-face customer interactions. Doors continued to open, and I ended up at the Mitchell branch and then to Port Albert, where I was able to strengthen my agronomic and grain knowledge. From there, it flowed into an opportunity at Snobelen Farms Ltd., focused solely on seed and agronomy. 
Tell us about your current role with SeCan in seed market development.
My current role is to develop sales and marketing strategies to help SeCan members and retails build their sales volumes and meet demand. A large part of my job consists of agronomic advice and recommendations. I prefer getting my hands dirty in the field over office time any day!  I travel from western Ontario to Bath, Ontario to call on our SeCan members and SeCan retails. It is the relationships that I get to build on continuously that make for an exciting day. I also get to work with growers, exporters, the entire seed chain.
What advice do you have for new growers?
Buy certified seed and understand what the variety you are purchasing offers you. I like to tell people seed is a gift. Years ago, when we graduated out of Ridgetown, seed was untreated. There weren't any treatments or inoculants applied. We just bought seed for the best yield we could possibly get. Now it's most important to understand what that seed holds for you. It holds both yield and traits that help you to achieve better success on your farm. For example, some varieties can now offer Soybean cyst resistance or phytophthora root rot resistance. Those types of packages can help you to manage disease pressures more effectively and ultimately improve your bottom line by giving you more tools in your toolbox. However, you need to understand what each variety has to offer, because they aren't all able to offer the same package.  
Beyond SeCan, what keeps you busy?
I was on the Ontario Seed Growers Association board for 10 years and I am currently sitting as the past president. I stepped onto the national Canadian Seed Growers Association board a year ago and recently moved onto the executive committee as the second vice-president. We are working toward a sustainable and thriving generation seed system. Our grassroots membership is large and diverse, so we need to take that into account when making decisions.
My husband, who is also a Ridgetown graduate, and I own Maitland Lane Farms where we farm with our two children. We have a beef cow/calf operation and a sheep flock. We market our products through some farm gate sales and have recently starting marketing through the "Eat Local Huron" program. We also have a cash crop operation growing a variety seed crops for seed companies.
Wow. That's a lot! How do you make room for all of this?
I am a 4-H leader as well. I lead a sheep club and vet club and I help with a crops club. I enjoy teaching agriculture to both young and old. I enjoy the opportunity to stand up and speak about agriculture where people are open-minded and interested. I think that's one of the things that gets me through – having something a little bit different in your evening hours. And, somewhere along the way you need to make sure you take time for yourself and enjoy your family.
What's next for you?
I don't believe learning is ever done. I don't want to get to a place in life where I am stale. Being able to advance through the National CSGA board will be a big step. I am the first female to be on the executive committee. Sometimes these doors need to be pushed down. It can be hard, challenging and difficult, but at the end, the results are worth it. I do know that I'll always continue learning and bettering myself.
---
This article was originally published in the LIBRANNI 2023 / Vol. 5
Read more LIBRANNI articles: 
Share this page
News Topics