Open access equine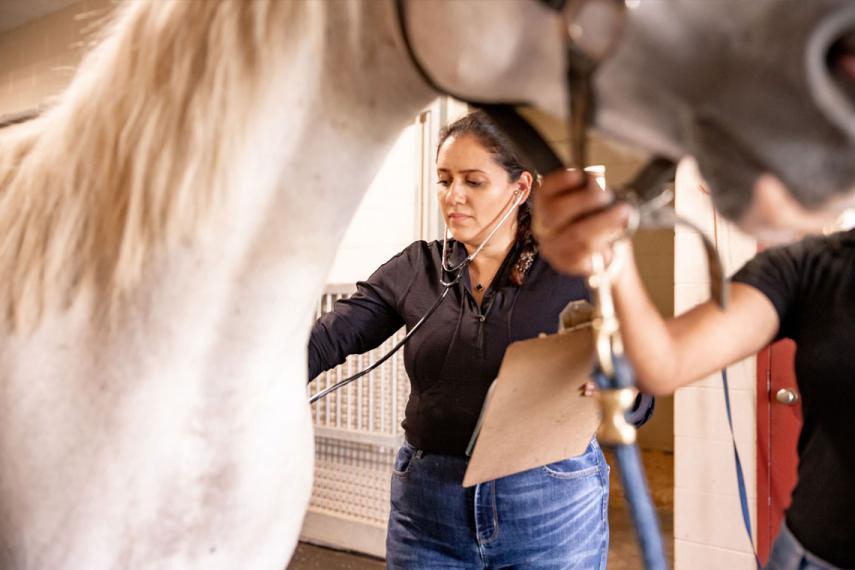 Seven rescue horses have found a new home at the University of Guelph.
Each has a unique background and set of needs, but all are cared for by students studying equine management in the Bachelor of Bio-Resource Management (BBRM) degree.
"Stormy was a circus horse, who was attacked by a lion," explains Sarah Labatt, herd manager and B.Sc. (Agr. 2022) graduate. "Jackson has laminitis, so we have to teach students how important diet and exercise is to the horses."
The BBRM teaching herd was created by Dr. Wendy Pearson, a professor in the Department of Animal Biosciences and a B.Sc. (Agr.) 1997 alum. The herd, which was established in 2019, is used exclusively by OAC students and primarily by BBRM courses.
 "Our horses are essential instructors in the BBRM equine program," says Pearson. "They contribute to student learning of anatomy, management and health, whilst helping students discover and nurture their inner passion for horses and the equine industries."
In a unique equine internship course, students are responsible for looking after each horse's daily care, such as feeding and overall health.
"Having the teaching herd at the students' disposal allows for a curriculum centered around the students' desired learning outcomes," says Sarah. Students who are interested in running a stable create budgets and annual health plans. Others interested in veterinary practice gain unique experience.
Sarah thinks the herd provides emotional benefit, too. "Most students choose to study equine because they love the animals," she says. "The herd enables them to build relationships with the horses, while also learning a great deal."
---
This article was originally published in the LIBRANNI 2023 / Vol. 5
Read more LIBRANNI articles: 
Share this page
News Topics