A life-changing plant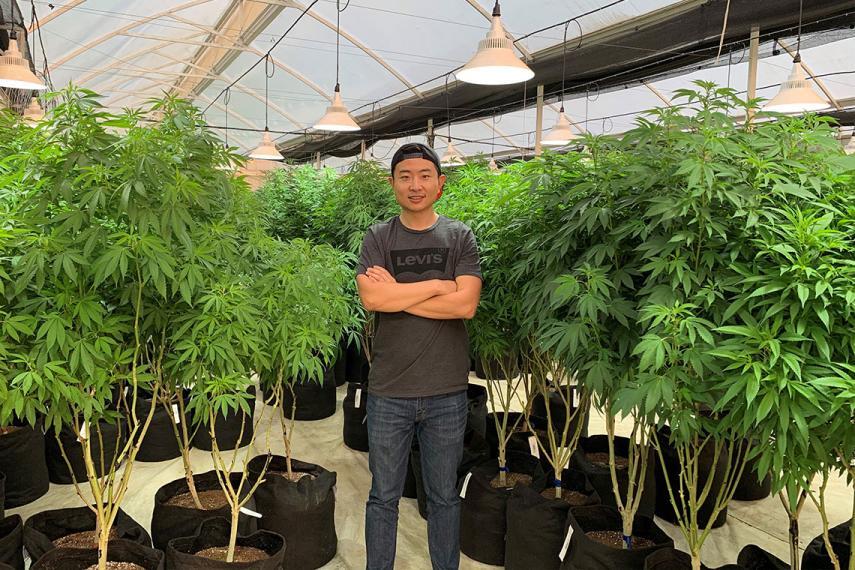 Featuring Peter Chen, PhD, Food Science 2016
---
Cannabis has had a profound impact on Dr. Peter Chen's life.
The plant inspires him, challenges him and rewards him. It also helped him tremendously throughout his academic career. "I saw the benefits. I was a huge proponent for it and if I could make a career out of it – amazing," he says.
Peter was in the second year of his PhD in food science when the Marijuana for Medical Purposes Regulations came into effect in 2014. Until then, he had not considered working with cannabis.
For his thesis, he studied plant-derived molecules and chemicals called phytochemicals. By extracting these substances from quinoa, beans and lentils, he aimed to better understand their antioxidant properties and other health benefits.
Those food science skills won him a Governor General's Gold Medal. They also translated into looking at phytochemicals in THC, the main psychoactive compound in cannabis.
When he realized he could use his training in food science to share the benefits of cannabis with others, a whole new career path opened to him.
"I was trying to find a way into the industry," says Peter. "I thought if we were trying to promote cannabis as a medical therapeutic drug for patients, it would be best to not smoke it."
Realizing that people would be looking for a healthier way of consuming cannabis, he says, "I wrote a proposal for a large, licensed cannabis producer in Vancouver on how to encapsulate THC into a food matrix and deliver it as a food ingredient." To Peter's surprise, the company was interested. The proposal ultimately gave him connections to many key players in the cannabis industry. Although it was too soon to start working for the company, Peter realized he had something valuable to contribute. "When that company responded, that was a big moment. I remember where I was and what I was doing," he says. "That's when I realized these are professionals making their living in the cannabis industry." Determined to gain as much experience as possible, he started as a freelance writer for a cannabis magazine, worked for a producer in Hamilton, Ont., and then became the chief science officer of Cannaverde Pharma Inc., a Canadian cannabis company.
Today, Peter is a regulatory affairs manager in the Controlled Substances and Cannabis Branch of Health Canada. He supervises a team that works on initial cannabis licensing for companies or individuals who want to produce cannabis. The team reviews federal licences for nurseries, processing, cultivation and medical sales.
Peter was recently promoted to a supervisor role, where he manages a team of reviewers.
Reviewers typically have four or five active files at a time. They assess documents such as business and facility plans to ensure safety, legitimacy and long-term success.
In his two years with Health Canada, Peter has been at the forefront of cannabis licensing. His team's improvements and efficiencies help streamline the licensing process countrywide.
And contrary to popular belief, Peter says his team is very customer service based. They want every applicant to succeed. "We are trying to help people fulfill their dreams, so it is very rewarding."
His experience and graduate degree in food science helped legitimize a cannabis career path, but he still dealt with stigma.
"As a child of Chinese immigrants, there was a lot of pressure to succeed and live up to certain standards," says Peter. "Smoking and working in cannabis was doing the opposite of what my parents wanted."
But Peter says his parents have come a long way from their initial expectations. As with many other people, legalization allowed him to have a more open and in-depth conversation about the benefits of the plant, such as treating anxiety disorders.
While working for a cannabis producer, Peter took his parents on a tour of the facility.
"I have a photo of them nose deep in cannabis," he says. "They thought they could get high just by standing near the plant, but I was able to dispel myths and explain the science of it. This was a transformative experience and helped changed their mentality."
Reconceptualizing cannabis is a good way to tackle stigma, Peter says, adding that it helps to look at how other countries treat cannabis. Earlier with Cannaverde Pharma Inc., he worked in Colombia.
Referring to cannabis production in the South American country, he says, "In Colombia, it is considered an agricultural process there. The process to license goes through an agronomy study, so it is very focused on plant science. Cannabis is a cash crop. This is agriculture."
From Peter's perspective there is no slowing down.
He says there is room in Canada for more cannabis producers, and the number of new applications continues to surprise him. But you won't find him complaining. He gets to work on the cutting edge of this evolving industry and reap the many benefits of this life-changing plant.
---
This article was originally published in the LIBRANNI 2023 / Vol. 5
Read more LIBRANNI articles: 
Share this page
News Topics