General Contact

Dr. Sameer Al-Abdul-Wahid
Facility Manager
Email: s.wahid@uoguelph.ca
Office: Room 1246, Summerlee Science Complex
Phone Number: 519-824-4120 Ext: 58914
Shipping Address 
Shipments via Canada Post take an extra 1-2 days to be processed by the University's mail system, so for time-sensitive samples we recommend using a courier service (FedEx and UPS both deliver regularly to campus and are familiar with our buildings): 
Univ. of Guelph NMR Centre
488 Gordon Street
Science Complex
Chemistry Stores - Room 1110
Guelph, ON
N1G 2W1
Driving Directions
The main NMR Centre lab is in room 1202B of the Summerlee Science Complex. While the building does not have a formal street address, inputting "488 Gordon St" into most GPS devices will correctly route you to this building.
For deliveries, please take the laneway marked with the black dashed line until you reach the rear doors of Science Complex, marked with the yellow/black star on the map. A loading dock is available. There is no parking available here - please call (519) 824-4120 ext. 58914 when you arrive and someone will meet you. 
Pay parking is available in the lots marked with blue lines/stars on the map (P44 at top and P31 at bottom). Please see Parking Services' website for current parking rates. Walking directions from the parking lots are shown below the map.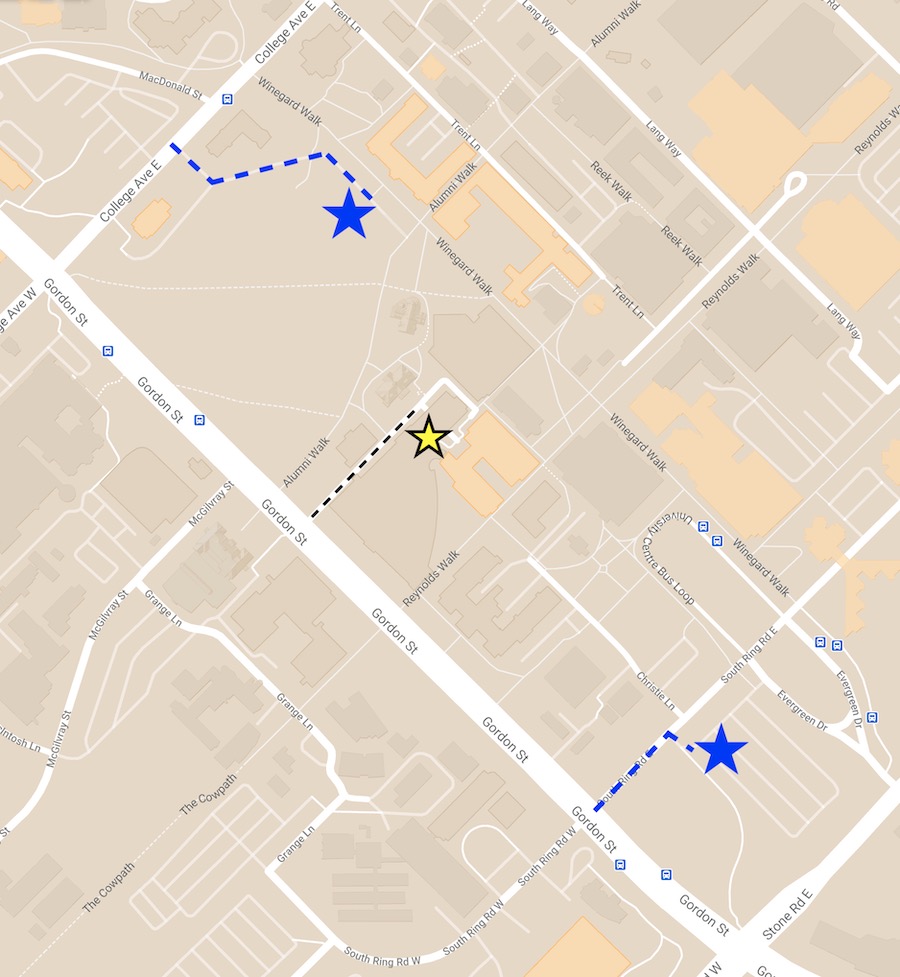 Walking from the Parking Lots
From lot P44, take Alumni Walk downhill. Just after passing the J.D. MacLachlan building, take the concrete road on your left which leads to the rear of the Science Complex. Pass through both sets of doors in the entryway. On your right, just past the men's washroom, there is a glass door leading to a narrow hallway. The NMR Centre is roughly one-third of the way down the hallway, room 1202B on the left-hand side. Please ring the doorbell or call (519) 824-4120 ext. 58914 for access. 
From lot P31, walk up Christie Lane until you reach the Science Complex. Enter through the main doors, continue into the large atrium, and follow the right-hand side of the atrium until you pass the Second Cup and enter a hallway, where you will find the NMR lab (room 1202) on the left-hand side. Please ring the doorbell or call (519) 824-4120 ext. 58914 for access.